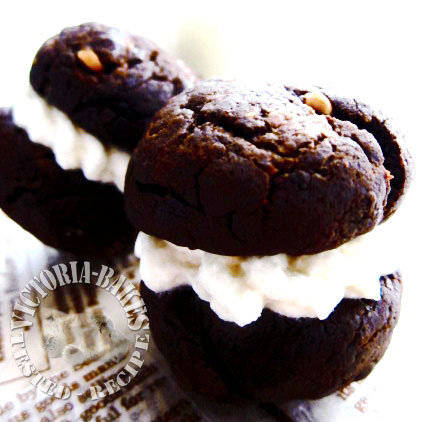 i have to confess, that this is my second attempt at this.
the first time i made these, was my first year into baking. the pies were great.. the mashmallow fluffy filling.. OMG. that was the
disaster. It required a good experience of making italian swiss meringue and you are talking about someone who still had phobia with beating egg white then. Of course, i failed ~ real bad. it turned out to be mashmallow flat filling.
ok ~ i then had the pies, no filling… now what? i saw a pack of mashmallow and thought i was real smart. i warmed it up over low heat hoping to can get to a consistency for piping.. aiyoh! worst!!! catastrophe! everything turned super sticky, i burnt my pot, and the mashmallow just turned hard rock! when the maid tried it, and looked at me, i told her.. don't ask. just dump…
oh well… experience makes a person i guess. and if you haven't failed, you will never enjoy the success…