i'd made the chocolate wassant bread so many times in the past 2 years i can dish one up whilst multi-tasking. that often! before the hubby returns home, i will usually ask if there is anything he will like me to bake. the standard answer "choco cake or choco bread".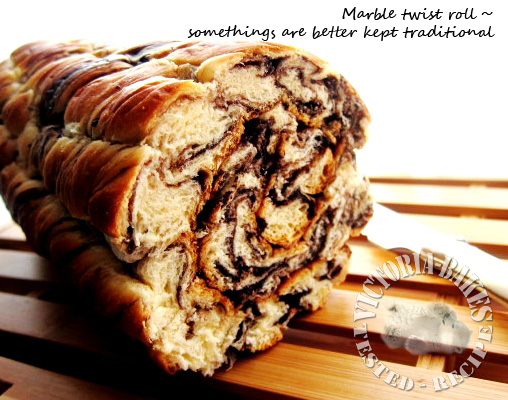 i am born with a short attention span since young ~ don't get me wrong. i am an awfully faithful and loyal person. i just cannot focus on one thing for too long. that is probably why i never go out with guys who enjoy the movies.
i know i needed to do something different with the chocolate marble bread.. i'd done it in crossiant roll and fold style, the loaf style, twist style, bun style… now what? i dawn upon a malay blogger who made the prettiest chocolate marble twist roll during my stay in Singapore. truly a beauty to the eye ~ the downside? with my half past 6 bahasa, i could only interpret two thirds of her instructions. thank god, the husband helped with the rest… so this is the result of the roll… not too much to my expectation ~ the roll somewhat tasted better as it aged after a day..