coffee buns or roti boys as some call it…anywho, i love these…. the smell of it when baking….. the faint smell of coffee is so romantic…. the hubby loves this bun but surprisingly, he did not know it's called roti boy (and he calls himself malaysian?)… anyway, I enjoy plating my bakes with cute designs… not difficult to guess why… because these bakes are for the kids… and largely because i believe it takes so little just to make something simple creative… 🙂
This time, I used the recipe from Kitchen Corner and as always, she never disappoint…. this bread is indeed fluffy… so soft… like CLOUD!
Original Recipe from here
Ingredients
(Recipe for 10 little buns)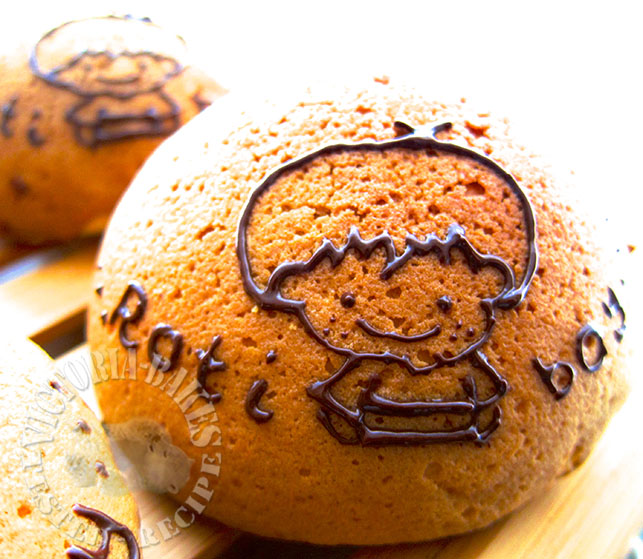 For the dough:
250g bread flour
38g caster sugar (*I used 48g of caster sugar)
3g salt
4g yeast
1/2 beaten egg (*I used 30g of egg)
135g fresh milk
30g butter
For the filling:
100g butter (softened)
1/4 teaspoon vanilla extract
35g brown sugar
For the topping:
50g butter
40g icing sugar (*I used 48g of icing sugar as I used Starbucks VIA coffee powder)
38g beaten eggs
1 teaspoon granulated coffee dissolve with 1 teaspoon water (*I used 1tsp of Starbucks VIA Extra Bold coffee powder ~ so good)
pinch of cinnamon powder (optional) ~ I added
50 plain flour
*I added 1/4 tsp of Amaretto
Directions
For the filling, using an electric mixer beat the butter and brown sugar until light and pale until the sugar totally dissolved. Add in the vanilla extract for the final beating. Place the mixture into the fridge until it harden. Divide the harden mixture into 10 portions and sit in the fridge until ready to use.

For the toppings, beat the softened butter with icing sugar until everything well combine. Gradually add in beaten eggs then the coffee mixture. Add in pinch of cinnamon powder with the flour and beat until everything well incorporate. Place the mixture into a piping bag and keep in the fridge until ready to use.

For the dough, knead all the ingredients together except butter. When the dough become a smooth dough add in butter and continue the the kneading process until the dough become smooth and elastic but not sticky. I used a standing kneading mixer to knead for approximately 30 minutes at speed 2.

Divide the dough into 10 little doughs and shape it into round ball shape. Let it rest for 15 minutes before add in the filling.

Roll out each doughs to a flat disc and add the butter filling. Seal it tightly. (make sure you seal it tightly otherwise it will split out during baking)

Place each doughs on a baking tray, make sure they sit a part from each other because they might stick to each other during the baking. Cover the doughs with cling film and proof for 50 – 60 minutes.

Before the doughs place into the oven, pipe out the filling in a spiral start from the top center of each buns. Bake for 12 minutes at 200'C preheated oven
Personal notes
– as i was piping designs on the buns, i had to make bigger buns (@55g per bun)
– I piped 8 spiral rings (using a 5mm piping tip) of topping onto each bun. Most of them covered nicely but I will try 10 rings in the future
– I omitted the filling (as hubby does not like filling) so I bumped up both sugar in the topping and bread
– I piped the roti boys faces on using melted chocolate…. little freckles are the reflection of the baker 😉
I recently made another batch of simple bread rolls…. and piped little chicks on'em as well….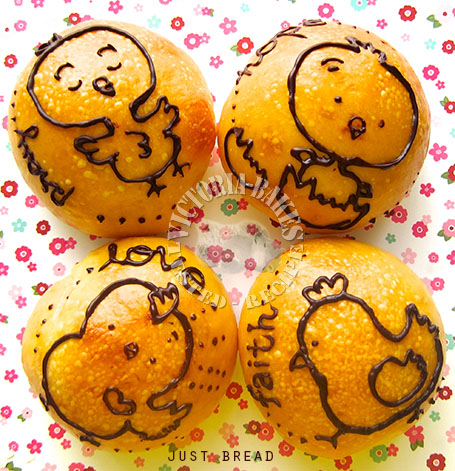 i call them my set of "Just Bread"….
Pollution index: 156 (unhealthy)