i'd made many burger buns in the past but nothing specifically caught my liking until i dawn on this recipe when i was reading the article on The Perfect Burger and All Its Parts. i then quickly did a search and realise many people had made this bun and absolutely swore by it…  i like this because it is really soft…. plus it is so fuss free -(๑☆‿ ☆#)ᕗ you need to try this out… and i dedicate these buns to Nelson Mandela…
Light Brioche Buns Recipe adapted by Hidefumi Kubota of Comme Ça via NY Times
Ingredients (makes 8 buns)
3 cups bread flour
1/3 cup all-purpose flour
1 1/2 teaspoons salt
2 1/2 tablespoons unsalted butter, softened
3 tablespoons warm milk
2 teaspoons active dry yeast
2 1/2 tablespoons sugar
2 large eggs
Directions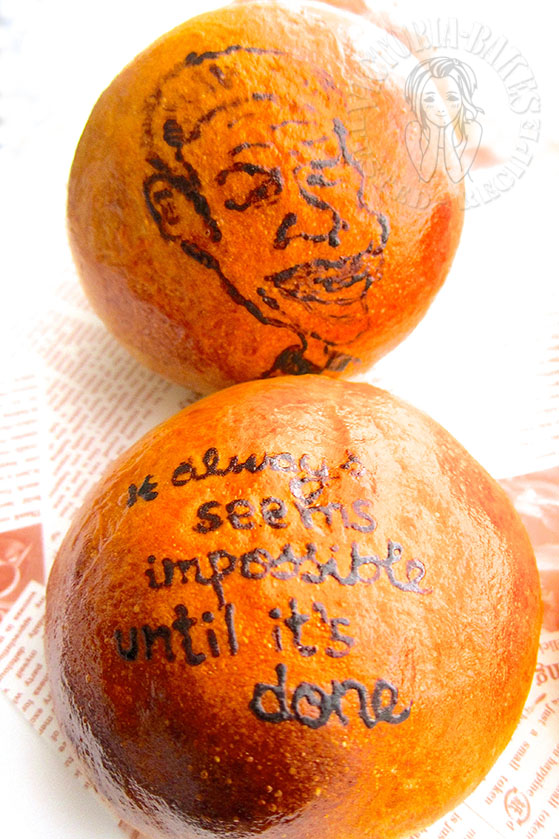 – In a glass measuring cup, combine 1 cup warm water, the milk, yeast and sugar. Let stand until foamy, about 5 minutes. Meanwhile, beat 1 egg
– In a large bowl, whisk flours with salt. Add butter and rub into flour between your fingers, making crumbs. Using a dough scraper, stir in yeast mixture and beaten egg until a dough forms. Scrape dough onto clean, unfloured counter and knead, scooping dough up, slapping it on counter and turning it, until smooth and elastic, 8 to 10 minutes
– Shape dough into a ball and return it to bowl. Cover bowl with plastic wrap and let rise in a warm place until doubled in bulk, 1 to 2 hours
– Line a baking sheet with parchment paper. Using dough scraper, divide dough into 8 equal parts. Gently roll each into a ball and arrange 2 to 3 inches apart on baking sheet. Cover loosely with a clean kitchen towel and let buns rise in a warm place for 1 to 2 hours
– Line a baking sheet with parchment paper. Using dough scraper, divide dough into 8 equal parts. Gently roll each into a ball and arrange 2 to 3 inches apart on baking sheet. Cover loosely with a clean kitchen towel and let buns rise in a warm place for 1 to 2 hours
– Set a large shallow pan of water on oven floor. Preheat oven to 400 degrees with rack in center. Beat remaining egg with 1 tablespoon water and brush some on top of buns. Bake, turning sheet halfway through baking, until tops are golden brown, about 15 minutes. Transfer to a rack to cool completely
see how fluffy this is? 。^‿^。
Personal notes:
– i baked my buns for the full 15mins, tenting it 10 mins into the baking time
– i did not add the tbsp of water to the egg for egg wash as i wanted a more golden brown top for my buns
– picture and wordings are painted with cocoa- egg yolk mixture ~ add 1tsp of cocoa powder to one egg yolk and mix well. paint buns after egg washing buns and allow the egg wash to dry slightly for otherwise your painting will smudge
and a made a Mandela burger for hubby's lunch …. woot! (❁´▽`❁)*✲゚*
… sometimes i wonder if i can earn some decent bucks with my personalised burger outlet.. mmm..
Pollution index: 45 (excellent)