Ok…. This is a super backdated post…. Didn't manage to write these post till I was traveling… Anyway… Here goes….
and so,  i also jumped into the bandwagon of making this myself… it seriously, is easy (#⌒∇⌒#)ゞ .. my only difficulty was erm.. when i had to spread the pork EVENLY on a piece of parchment paper measured to a 13 x 13″ square (as i did not have the pan).. but that's about it (。・//ε//・。)
Original recipe adapted from Sonia 
Ingredients (*makes 9pcs, perfectly for a tray size 13"x13" (4mm height))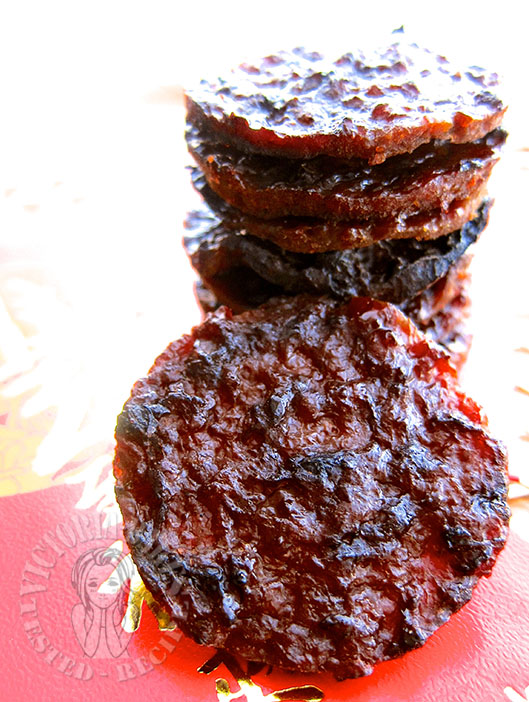 450g minced pork (at least with 10% fat)
100g sugar
1tbsp light soy sauce
1/2tbsp Chinese rice wine
1/2tbsp fish sauce
1tbsp oyster sauce
1tsp dark caramel sauce
1/8tsp Chinese five spices powder
A dash of Pepper
1/2tsp-3/4tsp salt or to taste
2tbsp honey
Directions
– Put all ingredients in a big bowl and start mixing them with a pair of chopsticks. Blend and stir the mixture in one direction until the meat becomes gluey (Latest update on 18 Jan-very important to stir till gluey otherwise meat will break out). Store in the fridge for several hours
– Spread the marinated minced pork thinly onto the baking tray (using fingers to spread)
– Bake at pre-heated oven at 160C for 20mins (Latest update on 18 Jan-15mins also good enough). Remove from oven. Increase the oven temperature to 240c
– Wait to slightly cool, cut into your desired size and shape using scissor, knife or pizza cutter, place them in the same baking tray
– Grill (top heat only) one side at 240C for 10mins, remove from oven, flip over another side, wait oven back to 240C and grill for 7mins or until golden brown with slight burnt
– Once done, let it cool and enjoy!
**you may store Bak Kwa (at stage 4) in the freezer for later consume. Defrost and grill (stage 5) before serve. It will be even taste perfect if you charcoal grill it. Adjust your oven temperature accordingly, you know your oven better !!
Personal notes: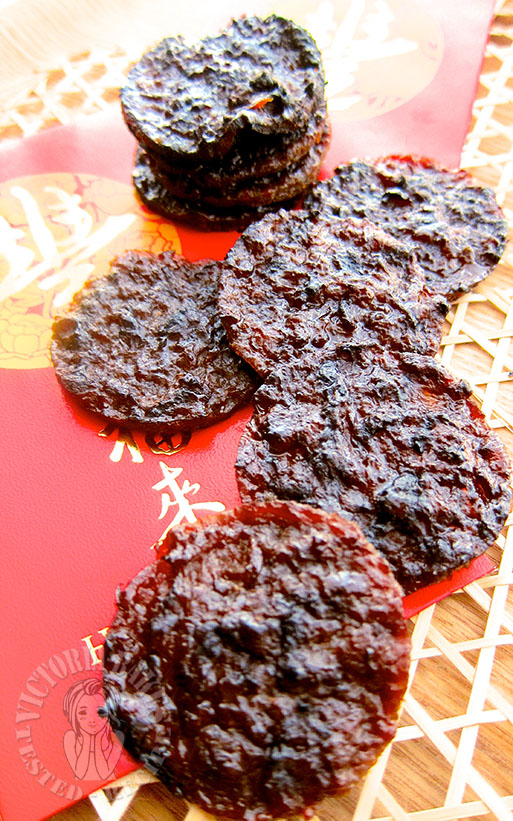 – for the first bake, i had to bake for 20 mins @160 degress C (as my pork looked pretty wet at 15 mins)
– during the last grill (i.e. after flipping the pork to the other side), i baked at 240 degrees for 5 mins, and 220 degrees C for 2 mins
– i used a round shape biscuit cutter to cut out the round disc (so the pork jerky resembles coins). i did not throw the remains of the cut out but continued to bake them.. i intend to dice them and make cookies later (づ。◕‿‿◕。)づ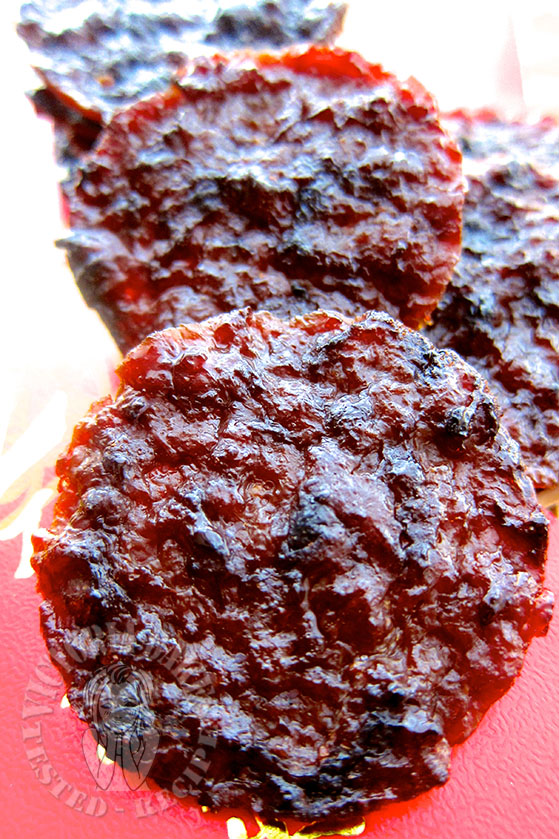 bak kwa bak kwa! no need to queue this year ƪ(˘⌣˘)┐
Pollution index: rainy Florence …