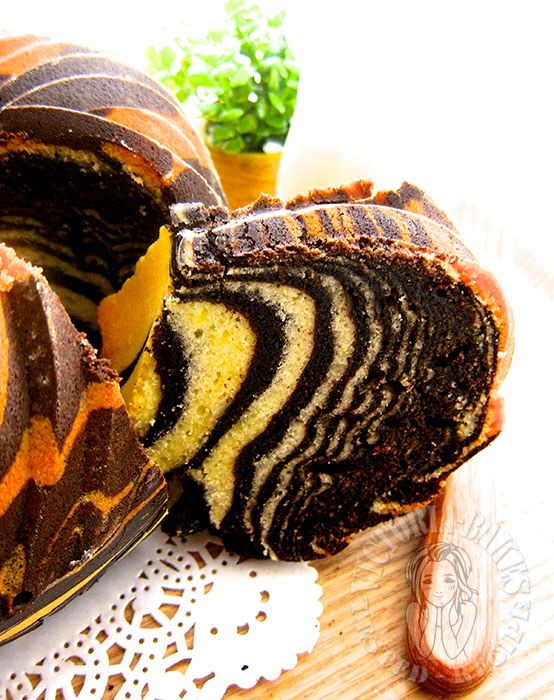 i'd made this cake probably 10x last year (?) … yes, it is very good p(^-^)q… it never fail to impress people when they eat this… 

Recipe adapted from Bakers Royale (further adapted from Tish Boyle, The Cake Book)
Ingredients (make one 10 inch bundt cake)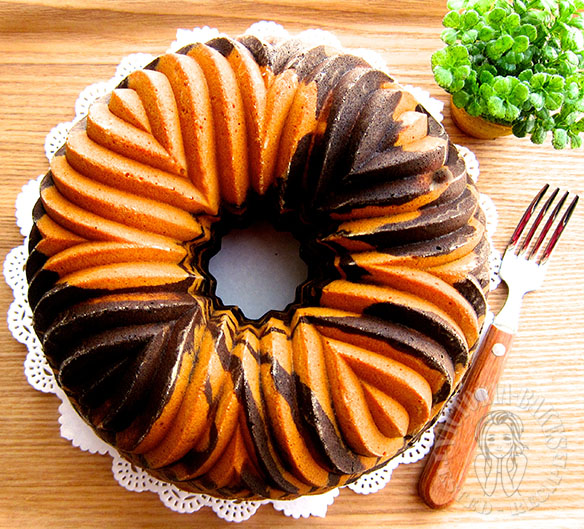 3 cups cake flour
2 teaspoons baking powder
½ teaspoon salt
2 ½ cups granulated sugar, divided
½ cup natural (not Dutch-processed) cocoa powder
6 tablespoons water
1 ½ cups unsalted butter, melted and cooled
1 ½ teaspoons vanilla extract
5 large eggs
½ cup whole milk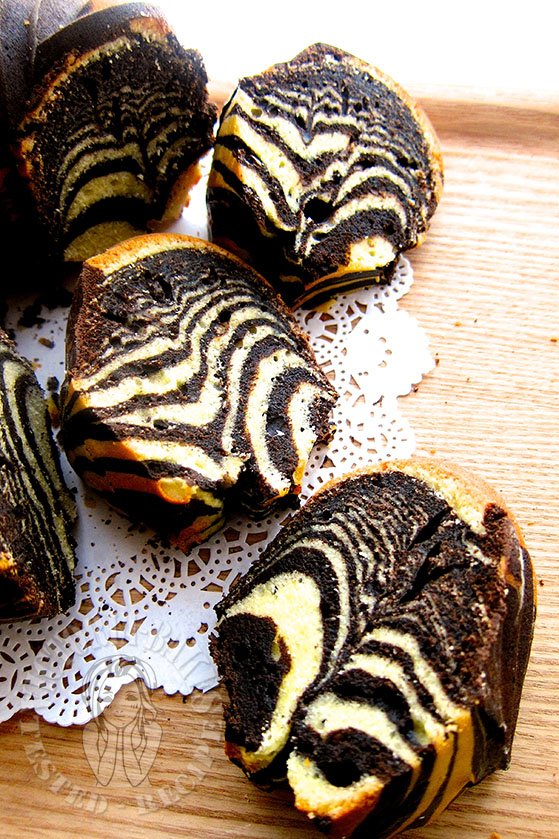 Glaze
6 ounces bittersweet chocolate
2/3 cup heavy cream
Directions
– Preheat oven to 350 degrees F and cover bundt pan with bake spray and dust with flour
– Sift flour baking powder and salt into a bowl; set aside
– In a separate medium size bowl add in ½ cup of sugar, the cocoa powder, and water then whisk until mixture is smooth; set aside
– Place melted butter and sugar in a stand mixer bowl fitted with a paddle attachment. Beat on medium high until mixture is blended, about 1 minute. Add in vanilla and beat until combined. Add and beat eggs one at time, mixing well after each addition. Once all eggs are added, beat mixture until it becomes light and fluffy (it will resemble pancake batter, but slightly thinner)
– Turn mixer speed down to low and add the flour in three additions, alternating with the milk in two additions and mixing just until blended
– Add 2 cups of the batter to the cocoa mixture and stir until blended
– Using an ice cream scoop, pour two scoops of vanilla mixture into pan. Now alternate and pour one scoop of chocolate mixture on top of vanilla mixture. Continue to alternate between vanilla and chocolate layers until bundt pan is filled
– Bake zebra pound cake for 50-60 minutes at 350 degrees F or until a cake tester inserted into the center comes out clean. Cool cake in the pan on a wire rack for 15 minutes. Invert the cake onto the rack and cool completely.
To make glaze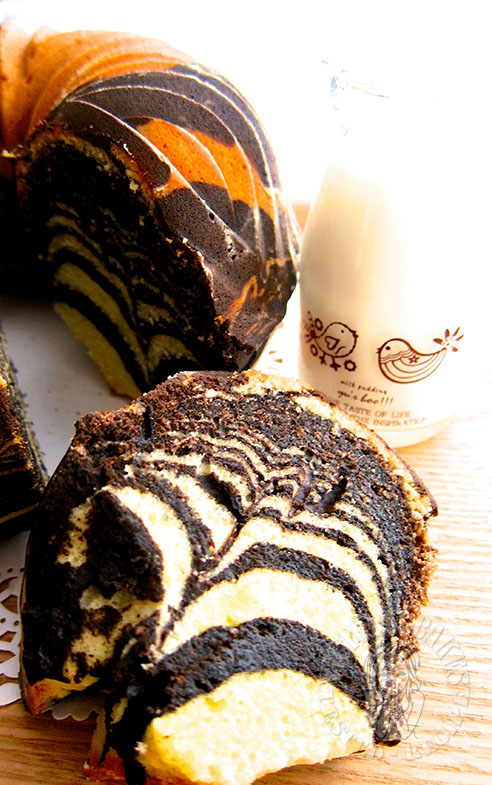 – Place chocolate and cream in a pan over low heat and stir until chocolate is melted. Set aside to cool for 10 minutes before using
– Pour the glaze on top and let glaze set, about 30 minutes. Slice and serve
Personal notes: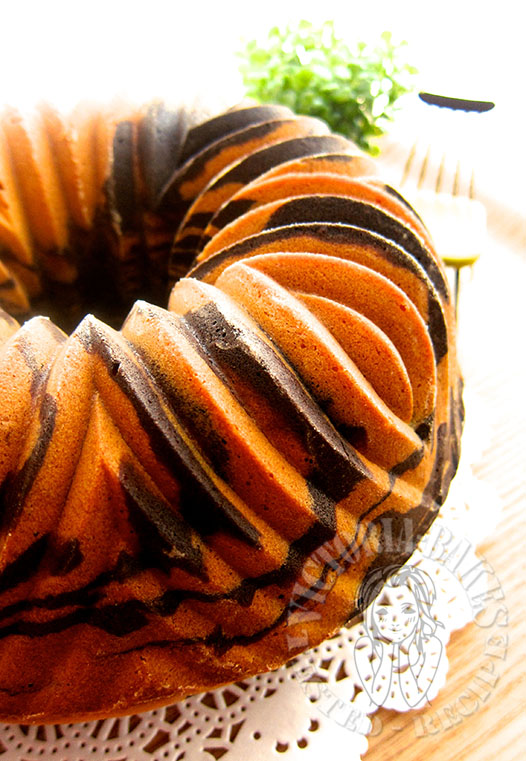 – i made my cake in a 9 inch bundt pan and baked it for 48 mins
– i used extra dark cocoa powder for the cocoa portion
– butter being 340.5g (i.e. 1 1/2 cups), i used 256g of sugar for this cake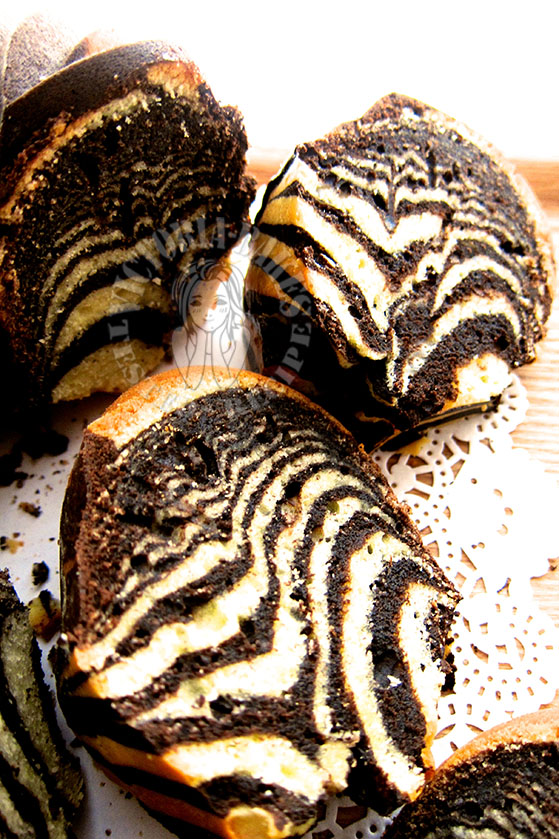 a slice is never enough (≚ᄌ≚)ℒℴѵℯ❤
Pollution index: 317 (hazardous)