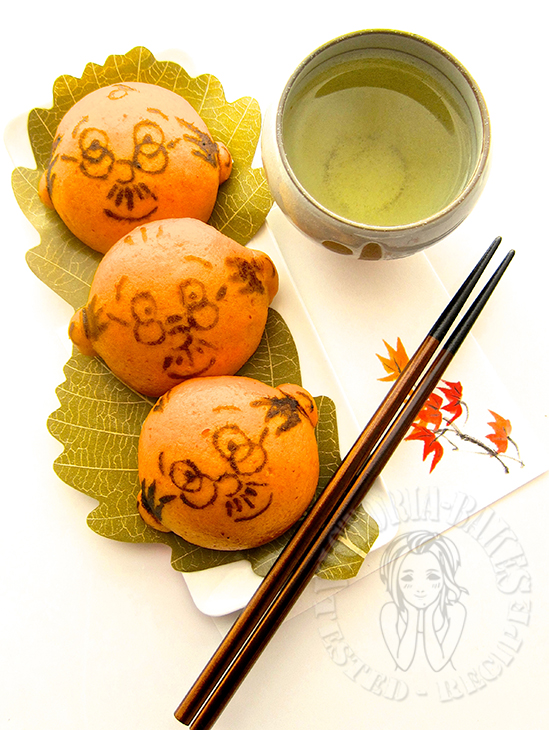 after i steamed these, my maid and i couldn't help but burst into laughter.. because i have successfully painted my father's face onto the hee pan… my dad has had the (mis)fortune of balding (is there a more diplomatic way of phrasing this?) since he was 20.. so he had always been misunderstooded for being much older than his age… but now that years have passed, everyone who see him says he never seem to age… is that a good thing? (ノ>▽<。)ノ I love this hee pan… it really is so chewy and soft i couldn't help but ate one myself… ( c//"-}{-*x)
Recipe adapted from Bakericious
Ingredients (makes 20 buns)
250g plain flour, sifted
250g glutinous rice flour, sifted
150g castor sugar
6g instant yeast
270g pumpkin
235ml water
30g canola oil
Banana leaves or parchment paper or cupcake case
Directions
– Dissolve the instant yeast in the water, mix well
– Remove the pumpkin skin, cut pumpkin into small pieces, steamed for 10 mins until soft, mash with fork. Let it cool and set aside
– Wash and clean the banana leaves, steam to soften and cut into square
– Mix plain flour, glutinous rice flour, sugar, pumpkin puree, yeast water and knead till dough is smooth
– Add in oil bit by bit, mix well with the dough. If dough is too sticky, use the plastic spatula to scrape
– Divide dough into 50g portions (do not need to proof), brush some oil on palm and roll into balls
– Place the ball onto the greased banana leaves or parchment paper and flatten it using palm
– Let the shaped hee pan proof for 25-30 mins
– Use finger to press the hee pan, fermented hee pan will be spongy, once ready can start to boil water in the steamer
– Once water is boiled, steam the hee pan for 12 mins at medium low heat. Turn off the fire immediately. 11. Do not remove the hee pan from the steamer
– Open the steamer lid a bit for 5 mins, then remove the lid carefully not to let water drip on the hee pan
– Remove the hee pan and cool on the rack
Personal notes:
– i halved the recipe, and used 100ml water, coconut oil and canned pumpkin puree for the recipe. with this combination, i thought the sweetness was just nice. REMEMBER TO COVER THE LID WITH A CLOTH when steaming buns
i made ten 56g hee pan and used remaining dough to make ears for the faces. follow diagrams below to paint buns. first, mix a scant teaspoon of black cocoa powder with an egg yolk and mix well (ensure there are no lumps). my room temperature was around 20 degrees C, so i started painting the buns one hour after proofing the buns
this is how your proofed hee pan should look like
take a medium brush and paint hair next to the ears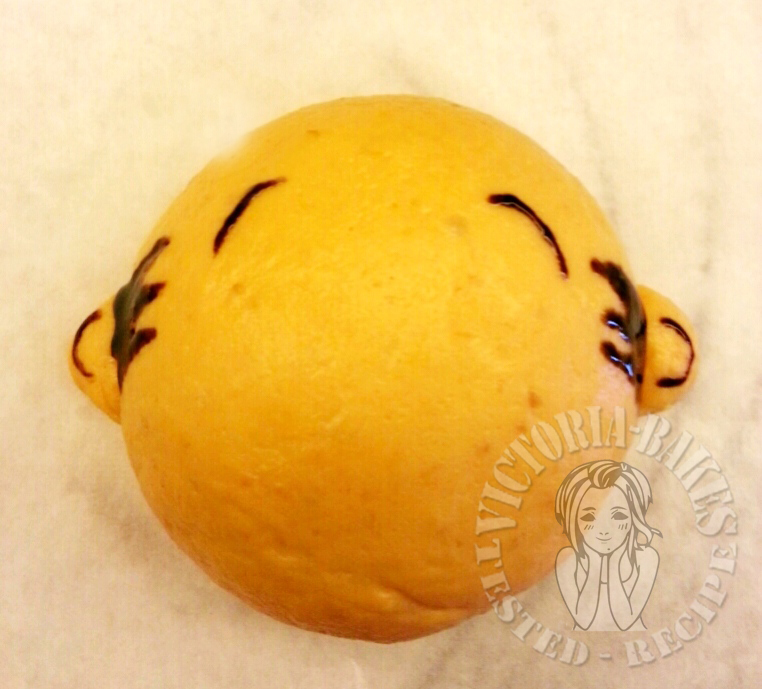 using a fine brush, define the ears and paint the eyebrow
paint the outline of the eyes….
… followed by the glasses
using the same fine brush, paint the pupil in the eyes and draw the nose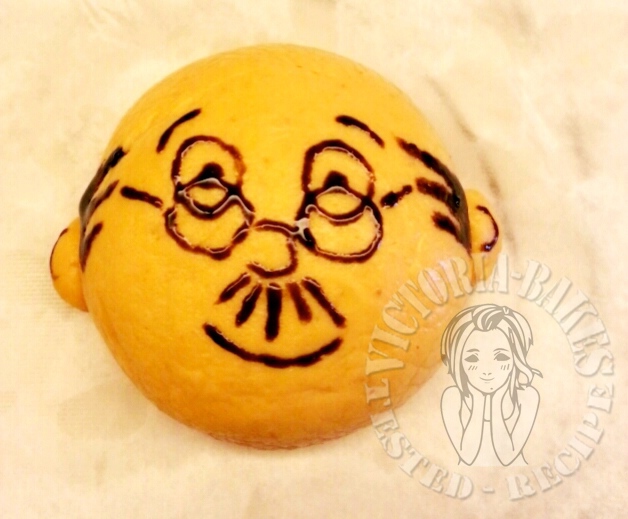 draw fine lines below the nose to resemble moustache and the mouth
finally, give it a hair or two on the forehead and you are ready to steam the buns (๑°꒵°๑)・*♡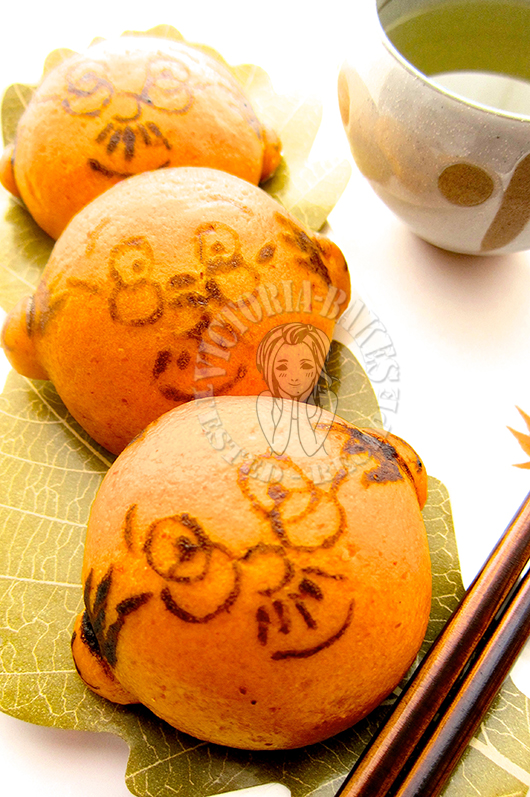 now i'm addicted to hee pan… you're gonna see me trying out more flavours ♡(˃͈ દ ˂͈ ༶ )
Pollution index: 396 (hazardous)