I'm surprised i haven't made baguette since i started baking
i think the scoring on the baguette "scares" many people
but with this method, it is fail-proof
才发觉从开炉至今,从没做过这长棍面包
想到在这面包上需要刮上几刀,烘焙出的后果还真是"小生怕怕"
不过哈,有了这个方式。。还真零失败哈
꒰⌗´͈ ᵕ ॣ`͈⌗꒱৩
Recipe adapted from Cookpad (makes two 30cm baguette)
Ingredients
250g all purpose flour
175g water
1g malt * i didn't have and omitted
1g yeast
5g salt
食材 (可做两条30厘米法式长棍面包)
面粉 250克
水 175克
麦芽 1克*我木有,所以省略了
干酵母 1克
盐 5克
Directions/做法
– place all ingredients into a bowl and knead with hand for about 1.5 mins. cover with cling wrap and allow dough to rest for 20 mins
所有食材放入容器中,用手混合约1.5分钟。用保鲜膜盖上,静置20分钟
– knead the dough for another 30 seconds and let it rise in room temperature of 25 degrees C for 2-3 hours
再次搓揉面团约30秒,然后让其在25摄氏度室温发酵2-3小时
– once dough doubles in size and has bubbles appearing on surface, proofing is done
面团发酵至双倍大、表面含气泡时,表示发酵已完成
– sprinkle flour on work surface and place dough on it. please DO NOT pop the air bubbles. carefully divide into 2 portions and cover with a damp cloth for 20 mins
案板撒上面粉,面团小心摆放在上方。千万不可将气泡刺破。将面团分割成2等份,盖上湿布静置20分钟
– take a portion of dough and begin by stretching the side. pull the top and bottom of dough to the centre and seal it
取一份面团由两端开始伸展。将上下方面团往中间折起,封口捏紧
– repeat the above step again, and shape into a 30cm loaf
以上步骤重复多一次,然后把面团整形成30厘米的长棍
– chill for 5-8 hour WITHOUT covering with cling wrap
送入冷藏库冷藏5-8小时。不要盖上保鲜膜
– take dough out from refrigerator. if you are using a normal oven, score the dough 3 times along the length of the dough. if you are using a steam oven, do the scoring only after resting dough in room temperature for 15 mins
面团从冰箱取出。如家里用普通烤箱,可立马生坯上用刀划3道。如用电蒸炉,先让面团回温15分钟在划道
– allow scored dough to rise for another 45 mins under room temperature
划了道的面团进行发酵45分钟
– meantime, preheat oven to 250-300 degrees with a baking tray placed upside down on the second lowest rack of oven
烤箱预热至250-300摄氏度,倒数第二层,倒放一张烤盘
– once the scores start to open up, brush the opening with a bit of oil
划道一开启,在上面刷少许油
– when the openings are about 2cm, spray them the loaves with water and bake for 30 mins till golden brown
当划道开裂至2厘米后,在面团喷上水,送入烤箱烤30分钟
*PLEASE WATCH THIS VIDEO CAREFULLY ON MAKING THIS BAGUETTE
*请参考此视频以更好了解制作这法式长棍面包的过程
Personal notes/温馨小贴士: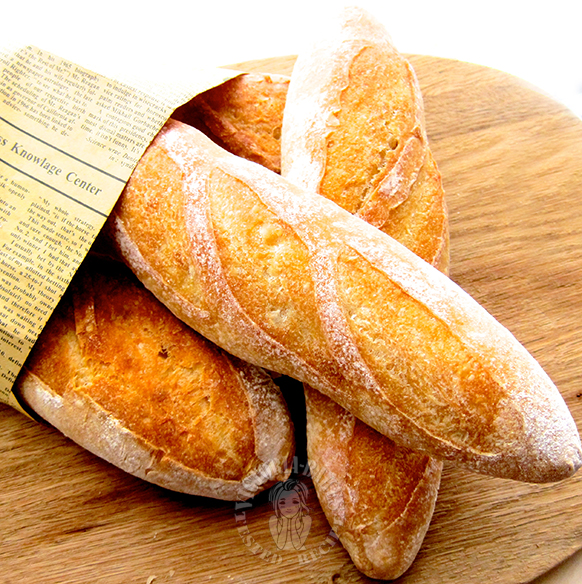 – when scoring baguettes, the trick is to make diagonal but nearly straight cuts that is perpendicular to the length of the baguette. each score should overlap about a third of the previous score. you should also be holding your "lame" or knife at a 30 degree angle. Your arm, instead of your wrist, should be doing the work when scoring
划道的窍门在于划上斜线时,斜线应偏直,也就是说与面包的长度几乎形成平行线。各划道应该交叠上一条划道约三分之一。并且,划道时,刀子应该以30度角度划下。划道的动作运用的是臂力,并非手腕操控
– i used a pizza stone instead of a baking tray
我用了烘焙石板烘焙这面包
– i could not preheat my oven any hotter and could use only 220 degrees C to bake this baguette.. it hence "lacked" that explosion look. however, the bread was still done in 30 mins
我家烤箱不给力。。只能以220摄氏度烤这面包,烘焙过程也是用了30分钟。想必是缺乏了那温度,所以没烤出那"爆裂"的外观
Pollution index: macau….