my ugly and dilapidated roof cake…
丑陋的屋顶蛋糕
>@<
Recipe
* please click here for ingredients conversion
Dark chocolate cake (i made my cake in a L31 x W21cm swiss roll pan)
(please click here for recipe)
Sugar syrup
75g water
65g caster sugar
1 tbsp rum
Buttercream recipe adapted and modified from Kitchenaid Instructions and recipes book
75g butter, softened
1/4 cup whipping cream
1 tsp vanilla extract
1/4 tsp salt
3 cups powdered sugar
Chocolate ganache adapted from Foodnetwork.com
8 ounces good semisweet chocolate chips
1/2 cup heavy cream * i used whipping cream
1 tsp instant coffee granules
食谱
* 烘焙时量杯和重量换算,请参考链接
黑巧克力蛋糕食谱 (我用了长31 x 宽21 厘米蛋糕卷烤盘)
(食谱请按此链接)
朗姆酒糖浆
水 75克
绵白糖 65克
朗姆酒 1大匙
奶油霜
软化黄油 75克
淡奶油 1/4 杯
香草精 1小匙
盐 1/4小匙
糖霜 3杯
巧克力淋酱
微甜巧克力豆 8盎司
鲜奶油  1/2 杯 *我用了淡奶油
速溶咖啡粉 1小匙
Directions/做法
– bake cake and allow to cool. meantime, prepare sugar syrup by placing all (sugar syrup) ingredients into a saucepan, heating over low heat. stir constantly till sugar dissolved. remove saucepan from heat
事先烘焙蛋糕,冷却当儿准备朗姆酒糖浆。所有糖浆食材放入奶锅,以小火加热,不停搅拌至白糖完全融化。离火
– prepare buttercream by beating butter till creamy, then add in whipping cream, vanilla extract, salt and 1 cup of powdered sugar. mix well, and then add in the rest of the powdered sugar cup by cup. adjust consistency by either adding more powdered sugar, or adding milk (by tablespoon) if buttercream becomes too stiff. set aside. do not chill
准备奶油霜 ~ 将软化黄油打发后,加入淡奶油、香草精、盐和1杯糖霜。拌匀后,加入剩余的糖霜。糖霜必须一杯一杯加入,拌匀后,才加入下一杯。如果觉得奶油霜太干,可适当加入牛奶(如需加入牛奶,请以一大匙一大匙加入,不可一次过加入太多)。准备好的奶油霜待用。不可冷藏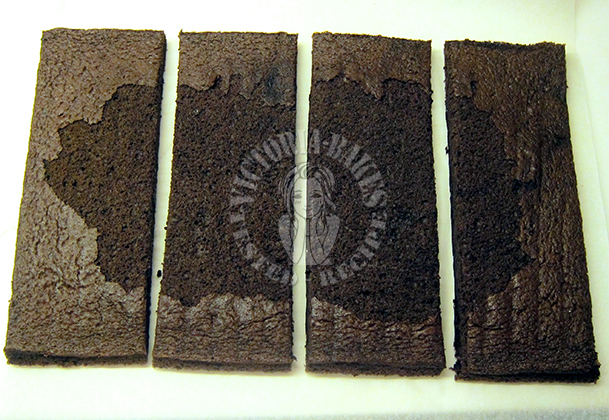 slice cake into 4 equal pieces
蛋糕分割成4等分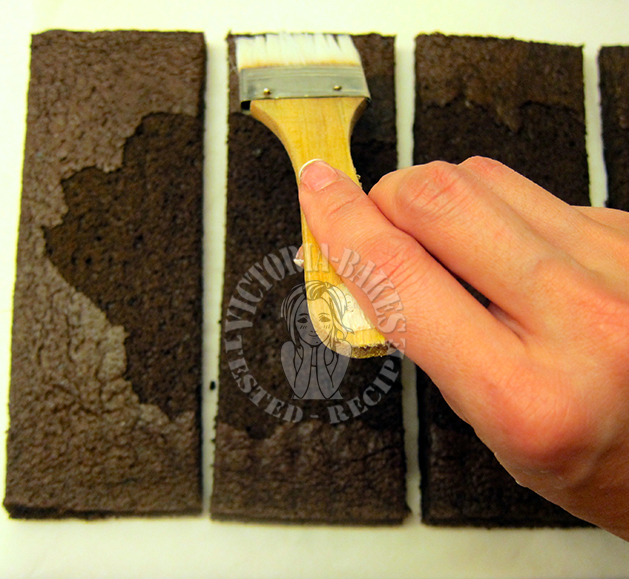 brush sugar syrup on top of one slice
在一片蛋糕上,刷上朗姆酒糖浆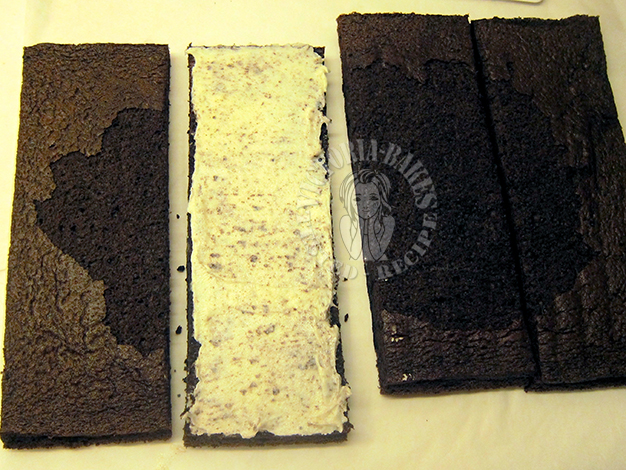 spread buttercream on cake very carefully
将奶油霜小心地涂抹在蛋糕上
place a slice of cake on top of the above
repeat the process till you have a 4 layer cake
freeze cake for 30 mins
在以上(已涂抹了奶油霜)的蛋糕盖上另一片蛋糕
此步骤重复至蛋糕叠成4层为止
然后,将蛋糕冷冻30分钟
slice cake diagonally
将蛋糕斜切、分半
brush sugar syrup, and spread buttercream on the base of one of the cake (this base i am referring to is either the top or bottom of the original unsliced cake)
在其中一份蛋糕的底部(这就是原先还没斜切过蛋糕的上下部份)刷上糖浆,并涂上奶油霜
join both the cakes together
两份蛋糕合在一起
then, spread the remaining buttercream over the surface of the entire cake. freeze for 1 hour
将剩余奶油霜涂抹在蛋糕顶部上。 蛋糕冷冻1小时
– meantime, prepare chocolate ganache: cook the chocolate chips, heavy cream, and instant coffee in the top of a double boiler over simmering water until smooth and warm, stirring occasionally
蛋糕冷冻当儿准备巧克力淋酱。所有食材放入碗中,隔水加热搅拌至巧克力融化为止
– remove cake from freezer and pour ganache over the cake. chill cake for 3-4 hours before slicing and serving
蛋糕从冷冻库取出,淋上巧克力酱。蛋糕冷藏3-4小时后即可想用
Personal notes/温馨小贴士:
– this is the second time i am making this cake. i suggest using a long rectangle swiss roll pan if you like a "taller" roof. if you use a normal square pan, the roof becomes "shorter"
这是我第二次烘焙这款蛋糕 ~ 如果你比较喜欢"高"屋顶蛋糕,我建议象我一样,运用长方形的蛋糕烤模。如果你用普通四方形蛋糕模,你的屋顶蛋糕会偏"矮"哈。。
– the challenges i met with this cake is in the diagonal slicing, and spreading of buttercream. so do exercise some patience when approaching these steps
对我来说,制作这款蛋糕的困难在于斜切蛋糕及涂抹奶油霜步骤。所以哈,制作这款蛋糕,要有耐心、耐心、耐心哦
– don't worry about the outlook of the cake during each step since it is covered mostly by buttercream, and in turn, by chocolate ganache. the crucial bits are to ensure an evenly baked cake, and that the diagonal slice is even
制作蛋糕过程无需费心蛋糕外观,因为最终蛋糕是以奶油霜和巧克力淋酱遮盖。我觉得关键在于烘焙出的蛋糕一定要高低均匀,并且斜切时也挺考功夫的
I am submitting this post to Best Recipes for Everyone #2 (Sept 2014 Event: Chocolate) hosted by XuanHom's Mom Kitchen Diary

Pollution index: how come index is down? is the pollution so bad again?