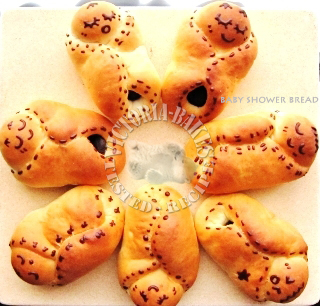 i'd been baking lots of cake recently and thought that it's time for a change…
i'd always love this recipe from a japanese bread baking book ..The author is Rie Takahashi (apologies I can't credit since i really do not know how to write Jap…) so if i can't read and write Jap, how did i translate this? haha… when i b0ught this book in Tokyo, i visited my usual hairstylist who was nice enough to translate as I browsed through the book… so here goes (and this recipe rocks)…
My go-to sweet dough recipe (please note that this recipe was presented as a cream horn in the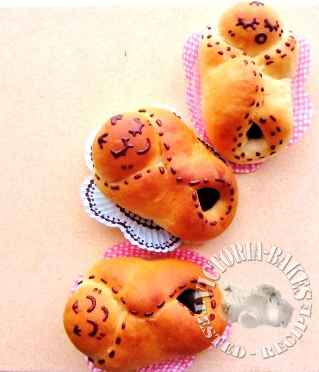 book):
300g Bread flour (I usually use a combination of 63g cake flour and 237g bread flour for a softer bread)
6g Instant dry yeast
36g Sugar
6g Milk powder
5.1g Salt
30g Egg
162g Water
15g Shortening
Bread flour, for dusting purposes
– Mix all dry ingredients for a minute then add in egg and water
– Knead till you get a soft dough. Then add in butter, and continue kneading till you achieve window pane. leave to proof till double in size.
–  for cream horn buns: Punch dough down, and divide into 55g per dough. rest dough for 20 min and roll out into a rope that is 25 cm in length
– holding on one end at the tip of the greased cream horn mould, twirl the dough around the mould. proof for 40 mins
– Brush the cream horns with egg wash and bake in preheated oven (180 degrees C) for 12~15 mins
– Fill the cream horns with your favorite filling (*personal note – I overlapped the dough by 5-7mm and please do not go too near to the top of the cream horn mould as it will puff over making it difficult to remove)
– for baby shower bread: 65 g per dough
– rest dough for 20 mins and divide it into a 15g and 45g dough. Roll the 15g dough into a ball. This will be the head
– Roll the 45g dough into a square of 10cm x 10cm (this is the blanket for the baby) then place the head on one of the corners of the square
– Directly below the head, place your desired filling by rolling it into a ball (i used red bean paste) ~ the weight of the filling should be 20g
– wrap the blanket by closing the left over right (or right over left)
– Bake in preheated oven (180 degrees C) (no, i did not egg wash the babies) ~ for some reasons, i used 40 mins baking time for this (probably because I tented the bread so that it doesn't brown too much… I didnt want an overbaked complexion for the baby) I made 8 baby shower bread rolls with this dough.
Happy Baking!
Pollution index: 130 (unhealthy)