hubby is back today and everytime he is back, there must be 2 bakes in the house ~ chocolate marble bread, and chocolate pound cake…
I like to bake my chocolate pound cake in a traditional pound cake tin… not a bundt pan… as this pound cake is meant for a 10 inch bundt pan, my tin will not be able to contain the entire load. The solution is to bake the rest in cupcake moulds (i know i know… sounds weird)… the idea was to cut out the shapes to mimick the meat patty in the burger.
I'd tried many chocolate pound cake recipes and have stuck with this for eons.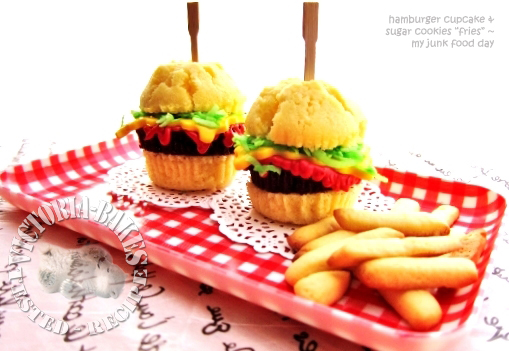 I found this recipe in allrecipes.com submitted by SDFS a year back and highly recommend you to try this ~
Chocolate pound cake (The Meat Patty)
1 1/2 cups butter, softened
3 cups of white sugar (i cut this way down.. used around 1 3/4 cups)
5 eggs
2 tsp vanilla extract
2 tsp instant coffee granules dissolved in 1/4 cup hot water (I use only Starbucks VIA coffee ~ 2 satchets)
1 cup buttermilk (I use Bob's Red Mill Sweet Cream Buttermilk powder and mixed with water)
2 cups all-purpose flour (I used cake flour)
3/4 cup unsweetened cocoa poweder (I use only Valhora)
1/2 tsp baking powder
1 tsp salt
Directions:
1. preheat oven to 325 degrees F or 165 degrees C. Grease and flour a 10 inch Bundt pan. Mix together flour, cocoa, baking powder, and salt. Set aside
2. Cream butter and sugar till light and fluffy and add in eggs one at a time, then stir in vanilla. Beat in flour mixture alternately with dissolved coffee and buttermilk. Pour batter into prepared pan
3. Bake for 60-70 mins (I baked for 52 mins) or until a toothpick inserted into centre of cake comes out clean. Let cool in pan for 20 mins and then turn out onto a wire rack and cool completely
Magnolia Bakery Vanilla Cupcake (The Burger Bun)
Please refer to http://www.marthastewart.com/356079/magnolia-bakery-vanilla-cupcakes for recipe and directions (Once again, I cut down on the sugar). This is a highly recommended recipe… It's really good and yields a soft and tasty cupcake, but yet slightly crunchy outside (beware… this cupcake does rise alot)
Fondant (The cheese)
You can choose to use your favourite frosting, tint it yellow, then pipe it out on the meat patty. I chose to colour the fondant yellow and cut out with a cookie cutter. Brushed it with some water and left it in the fridge to dry
Vanilla or Cream Cheese Frosting (Ketchup)
Tint the frosting red… If it gets tough achieving the red you want, add with a slight tint of violet. Then put into piping bag
Sweetened coconut flakes (Lettuce)
mix some green colouring with a bit of water.. not too much (I agar-agar here) for otherwise your lettuce will end up too wet! Then mix in the coconut flakes so that they are tinted green
Assembly time!
– slice the vanilla cupcake into half… I have a problem cutting things straight so all my burgers ended up slanted… grumble
– pipe a bit of frosting on the bottom cupcake and top with the meat patty
– pipe ketchup on top of patty and place the cheese (if using fondant) or pipe a yellow square on top of ketchup
– sprinkle with lettuce and top with other half of cupcake
– serve with fries (made with sugar cookie. I shall share my sugar cookie recipe in my next post)
There goes my Saturday…. but it is the weekend, and here's the junk for my Saturday matinee! Yipee!
Pollution index: 140 (unhealthy)