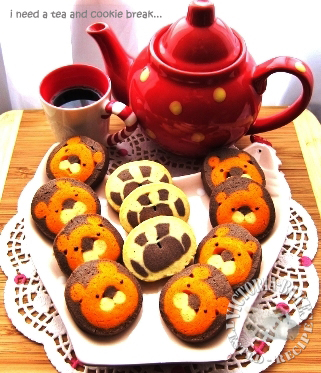 it all started with me only needing a whee bit of sugar cookie as "fries" for the hamburger cupcake… and so i decided to make a small cookie dough, make printed sugar cookies and use the "remnants" for the fries… this was supposed to be cub and paw cookie (i.e. young of lion) … somehow, i feel it looks more like bear to me. and my paws!!! disaster! i just press'em so much i flattened the round paws… grrr! so do not make the same mistake as me! I'm running short of time today, so will share directions for piglet cookies…
Sugar cookie recipe (recipe from Xiao Ben Chu Fang de Shou Hui Xin Fu Bing Gan):
unsalted butter 70g (softened)
icing sugar 50g
Egg (at room temperature) 25g
– vanilla extract 1/2 tsp
baking powder 1/2 tsp
cake flour 130g
milk powder 10g
Directions
Add icing sugar to (very) soften butter and beat till light and fluffy. Add egg in 2-3 additions and then add in vanilla extract. Make sure it is well incorporated. Sift in baking powder, flour and milk powder. Use rubber spatula and mix till u get a soft dough. DO not overmix. If baking the sugar cookie as it is, wrap tightly with cling wrap and chill for 1 hour. Bake at preheated oven of 180 degrees C for 15-20 mins (I baked for only 12 mins)
Piglet cookies
You need 180g of original dough, and 90g of original dough mixed with 1/2 tsp of red yeast powder, or mountain yam powder, or red food colouring till you achieve a pink dough.
Divide pink dough into 50g (this will be the nose), and 2 doughs of 20g each (these will be the ears). Roll both the 20g dough into a rope of 15cm. the press them on the sides using your index and thumb to achieve a long triangle log. Wrap up with cling wrap and chill for 10 mins. Roll 50g dough into 15cm log as well, wrap up with cling wrap and chill for 20 mins.
Roll the 180g original dough into a 15 cm x 10 cm rectangle on a cling wrap. Place the nose (i.e. the 50g log) in the middle of the plain dough and wrap the plain dough around the nose. Remove the ears from the fridge and press them on the top left and right corner of the plain dough. Wrap the entire cookie log in cling wrap and chill for  hour.
Preheat oven to 180 degrees C. Slice cookie and paint the eyes using egg yolk mixed with bamboo charcoal powder or black cocoa powder. Bake for 15-20 mins ( I baked for 12 mins).
Pollution index: 310 (hazardous)