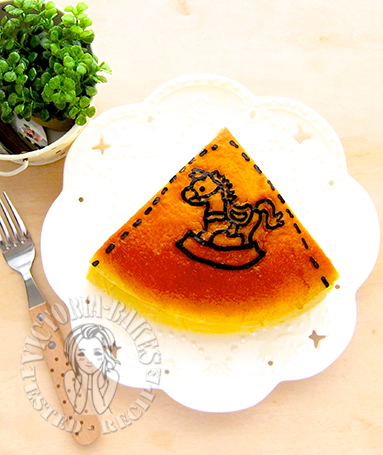 repeat telecast? hahaha.. (っ˘ڡ˘ς) but i just can't get enough of this… how else to use up expiring cream cheese and whipping cream? and let me warn you… this is a very very good cake!!! when i tasted it in raw batter (oh yes, i taste everything before it goes into the oven… long story why this has become a habit), it tasted like ice cream to me… i knew immediately it will be a hit.. and all thanks to Nami, her very detailed instructions made this all so easy
Recipe from Just One Cookbook 
Ingredients (makes a 9 inch cake)
400 g (14.1 oz) cream cheese, at room temperature
60 g (6 Tbsp.) granulated sugar
60 g (4 Tbsp.) unsalted butter, cut into 1/2″ (1 cm) slices, at room temperature
6 large egg yolks, beaten, at room temperature
200 ml heavy whipping cream, at room temperature
10 ml (2 tsp.) lemon juice
1 Tbsp. rum (optional)
80 g (8 Tbsp.) all-purpose flour
3 Tbsp. Apricot jam + 1 tsp. water
Meringue
6 egg whites, refrigerated
100g (10 Tbsp.) granulated sugar for meringue
Directions
– Before you start prepping, remember to keep cream cheese, butter, egg yolks, and heavy cream at room temperature
– Lightly grease the bottom and sides of a 9″ (23 cm) spring-form pan with cooking spray and line with parchment paper. Wrap the base of the cake pan with aluminum foil (preferably with extra-large heavy duty foil) to prevent seepage. If you use regular size aluminum foil, make sure to seal the two sheets of foil very tightly by folding two edges and make one big foil
– Preheat oven to 320F (160C) degree. Start boiling water
– In the bowl of the electric mixer, beat cream cheese and sugar on medium-high speed until smooth
– Add the butter and mix until thoroughly incorporated
– Add the egg yolk and heavy cream and mix well
– Add lemon juice and rum and mix until the batter is very smooth
– Sift the flour twice and add the flour all at once and mix well
– Transfer the batter to a large bowl. Wash the mixer bowl and dry completely. Make sure there is no oil or water in the bowl
– To make meringue, beat the egg whites until stiff peaks form. In the bowl of electric mixer, whip the egg whites on medium low speed (speed 4) till opaque and foamy and bubbly. Then add 1/3 of the sugar at a time as the mixer runs. Once all of the sugar has been added, increase the mixer speed to high (speed 10) and whip for approximately 4 minutes, until the meringue has doubled in volume and is thick and glossy
– To test for stiff peaks, the peaks should stand straight up when you lift up the beaters. The whites should not slide around. If the meringue has not reached the desired consistency, continue whipping at high speed for another 30 seconds, then stop and test again. Once the egg whites are over beaten, they can't be used for the recipe
– Add 1/3 of the meringue to the batter and mix well first. Then add the rest of the meringue all at once and fold it in (not mix this time)
– Pour the batter in the cake pan and then drop the pan from 2-3″ (5-7 cm) high to the countertop to remove any air bubbles
– Place the cake pan in a large roasting pan and pour 1″ (2.5 cm) of boiling water in the roasting pan. Place the baking pan in the middle rack of the oven. (The reason why we put hot water in the pan is that steam will help making cake soft and moist and hot water around the cake will gradually cook inside the cake while baking in the oven.)
– Bake at 320F (160C) for 60 minutes or until light golden brown. Then reduce temperature to 300F (150C) and bake for another 30 minutes
– When a wooden skewer inserted in the center of the cake comes out clean without wet batter, turn off the oven. Let the cake sit in the oven with the door slightly ajar for 15 minutes. Remove from the oven. Take out the cake pan from the roasting pan, and let it cool on a wire rack
– In a small bowl, heat apricot jam and water in microwave for 30 seconds and spread the jam on top of the cake. When the cake is completely cool, take it out from the pan and refrigerate for a few hours before serving. Cut the cake with a fishing line or a warm knife (run a knife under hot water and wipe off completely before each cut)
*Nami's notes:
– Leave the oven door ajar because sudden temperature change will result in collapse of the cake
– It should be consumed within 3 days if it's kept in refrigerator. You can also freeze and keep it up to 2 months. Defrost at room temperature while covered
Personal notes:
– i added a dash of organic vanilla paste into the egg yolks, and used 3/4 tbsp of rum
– my cake was baked in an 8 inch spring foam pan at 150 degrees C for 30 mins, and 145 degrees C for 55 mins
– you can refer to my personal notes portion of this post on painting cheesecake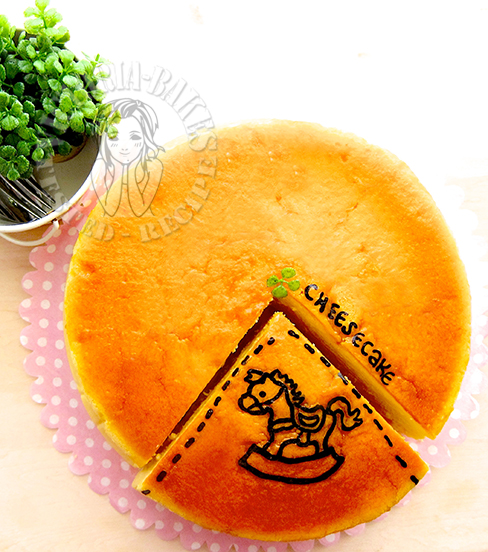 everyone just went ♡(˃͈ દ ˂͈ ༶ ) at their first bite…. try it!!! thanks Nami!
Pollution index: 414 (severely polluted)