there'd been lots of baking this week at home ~ and all are requests from hubby (since he is going away on yet another long trip). "Lai Wong Bao", or custard buns, are one of the favourites at home… believe it or not, I spent the whole night wondering how i should shape 'em…. somehow, chicks are still the cutest, no?
Ingredients

Bao (bun) recipe
85g cake flour
85g hong kong flour
1/8 tsp salt
22g castor sugar
3/4 tsp instant yeast
80g water *ok, i used 80g and 1.5 tsp of water… it was a little dry so i added water by the tsp
5g shortening
面团食材
蛋糕粉 85克
香港面粉 (水仙粉)85克
盐 1/8 小匙
绵白糖 22克
即溶酵母 3/4小匙
水 80克 *我用了80克 加 1.5小匙水
白油 5克
Directions/方法
Sift flours and salt into a mixing bowl
面粉和盐筛入容器

combine sugar, yeast and water with the flours and blend to mix well. Knead until soft dough is formed
拌入糖、酵母和水。搓揉至形成面团

add in shortening and continue to knead till dough is smooth and elastic (I achieved this status in 10 mins)
加入白油,继续搓揉面团至拓展性 (我用了10分钟)


Proof dough for 60-90 mins till dough has risen to its limit
面团发酵60-90 分钟至双倍

meanwhile, prepare custard
发酵面团之间,准备奶黄
Lai Wong (custard) recipe (this recipe makes a scant 1/1/4 cups… much more than required above….but i just chill the remaining) (apologies I am unable to credit the owner of this recipe as I have it as a print out without the link)
*please refer to this link for conversion
1/4 tsp salt
2 tbsp custard powder
slightly lesser than half cup sugar (or feel free to use half cup if you like sweetness…)
1/2 cup cornstarch
1/2 cup coconut milk
2 tbsp sweetened condensed milk
2 tbsp unsalted butter, cut into 3 or 4 pieces
2 large egg yolks
1/2 to 1 tsp vanilla extract
奶黄食材 (多余的奶黄可冷藏)
*如需烘焙时量杯和重量换算,请参考此链接
盐 1/4小匙
卡仕达粉 2大匙
糖 稍微少于半杯 (如喜好偏甜的朋友可用半杯)
粟粉 1/2杯
椰浆 1/2杯
炼奶 2大匙
无盐黄油 2大匙,切成3-4小块儿
蛋黄 2大颗
香草精 1/2-1 小匙
Directions/方法

– in a saucepan, whisk together salt, custard powder, sugar and cornstarch. Then whisk in coconut and condensed milk. Heat over medium heat and stir constantly till you get a smooth texture
奶锅中,用打蛋器混合盐、卡仕达粉、糖和粟粉。加入椰浆和炼奶,拌匀,以中火加温。之间不停搅拌直到面糊润滑
add in butter and continue stirring till butter melts
加入黄油,搅拌至黄油融化为止

keep stirring (maybe for 6 mins) until mixture has thickened. I used a spatula to do this at this stage. The mixture will start to stiffen up and if you see lumps, stir vigorously till you achieve a smooth paste
继续搅拌约6分钟直到面糊开始浓稠。在此阶段,我转用了橡皮刮刀。面糊会开始成团。如出现颗粒状态,必须用力搅拌至无颗粒为止

when mixture is thick enough to stick to the spatula and form a soft peak, move the pan off the heat and whisk in the egg yolks. This may thin the mixture slightly
当面糊浓稠而在橡皮刮刀形成软尖形时,将奶锅离火,打入蛋黄。面糊会稍微变稀

return pan to heat and continue whisking till yolks are incorporated
将奶锅再次回炉加热,不停搅拌至蛋黄拌匀

continue the vigorous whisking for 1-2 mins more until mixture thickens where it cleans the sides and comes together easily as one mass (similar to the dough you make for cream puffs)
最后,猛力搅拌1-2分钟,直到奶黄不再粘锅,形成一团

stir in vanilla then take pan off heat
加入香草精,离火

stir it occasionally for a few minutes to cool it
不时搅拌几分钟,然后让其冷却
Making the bun/做包子了哈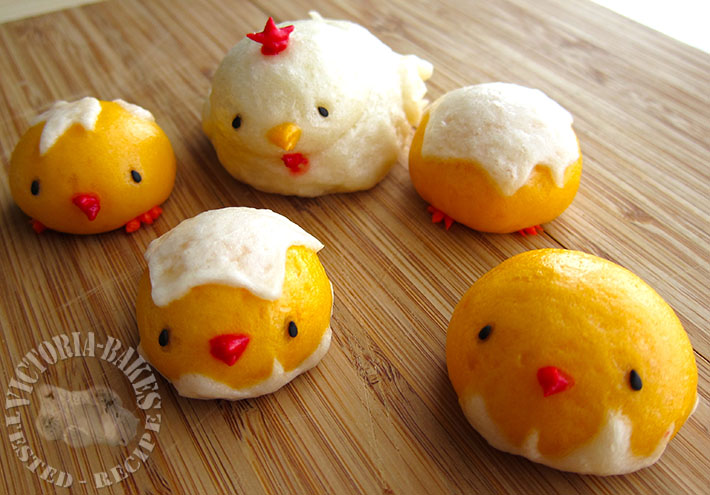 – depending on your preference on the size of the buns, divide the dough accordingly and cover with damp cloth. Similarly, shape the custard filling according to preference
将面团分割成等份,盖上湿布。奶黄也分割成等份 (分量就看您自己偏好包子大小来确定)
my hubby loves mini buns (like those you see in Fook Lam Moon restaurant), so i made them real mini. The chicks, are only 10g each, and filling is 6g
我家老小孩喜欢香港福临门的迷你奶黄包,所以我就做了超小迷你小鸡包子。面团各10克,馅料 6克

wrap filling with dough then place on parchment paper
包入馅料后,包子摆放在烘焙纸上

proof for 15-20mins
发酵 15-20 分钟

boil water in steamer and steam the buns over boiling water for 10-15mins depending on the size of your buns. For my chicks as they are really mini, I steamed them for 5.5mins, then turn off the fire and kept them in steamer for another 3 mins. The skin turned out smooth
蒸锅里烧开水后,将包子放入,蒸10-15 分钟 (时间取决于包子大小)。我家的包子时迷你包,所以蒸了5.5 分钟,熄火。然后让包子在蒸锅里继续焖3分钟才开盖。包子皮特别滑

p.s. remember to cover the lid of your steamer with a cloth so that the water droplets do not drip on your buns
再唠叨一下~ 蒸包子时一定要在盖子包上一层布,以免水蒸气滴到包子上 ~ 如果水滴到包子上,包子就不漂亮了哈
I am submitting this post to Aspiring Bakers #31 – Bao Ho-Chiak (May 2013) hosted by Miss B of Everybody Eats Well in Flanders 
Happy Weekend!
Pollution index: 156 unhealthy