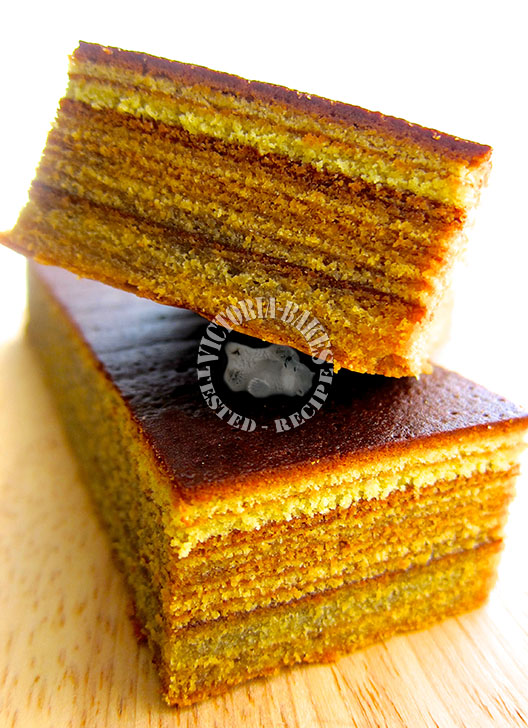 this cake is supposed to look green. how green? like christmas tree green… but because i am not a big fan of food colourings, i added only 2 teeny drops of green food colouring just to get a mild pastel green….  ok.. and i'm not gonna slice too much of the cake here because they are meant to be gifts for my favourite hairstylist Aki Watanabe… oh yes, visiting him again in Tokyo over the weekend…
homemade kek lapis for Aki-san… and my ugly japanese handwriting.. ╥﹏╥
Original recipe adapted from Sarawak Layer Cakes
Ingredients (makes a 20cm (8 inch) cake)
Ingredients A
250g Hong Kong flour, sifted
250g castor sugar
50g Horlicks powder
1 1/2 tbsp or 20g ovalette
2 grade A egg whites
10 grade A egg yolks
75ml chilled water
Ingredients B
350g butter
4 tbsp sweetened condensed milk
170g kaya
Flavouring and colouring
Panda flavouring and green food colouring as desired
Directions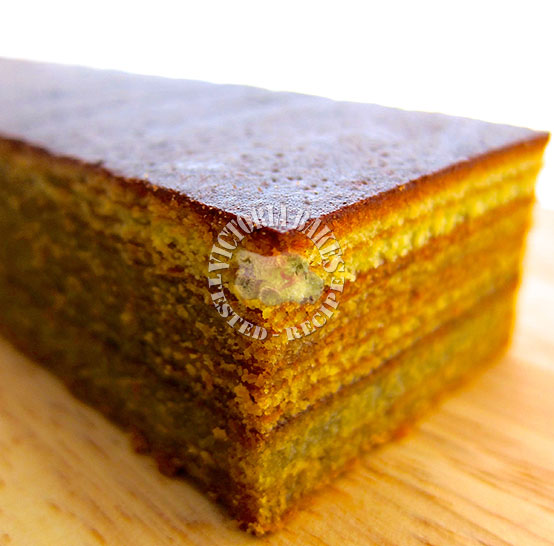 – Sift flour into clean and dry mixing bowl. Add sugar, ovalette to flour, followed by egg yolks and chilled water
– beat batter until well-mixed and set aside
– combine all of ingredients B in a mixing bowl and beat at high speed for 10 mins or until creamy
– mix butter mixture into egg yolk batter and mix till well combined
– beat egg whites till you achieve stiff and shiny peaks
– fold in egg white in 3 additions
– add pandan flavouring and green food colouring as desired
– preheat oven to 200 degrees C for 15 mins with top and bottom heat
– grease a 20 x 20 x 10cm (8 x 8 x 4-in) square baking tray. Line with greaseproof paper. Turn oven to grill mode (or just top heat) when you are ready to bake
– scoop 5 tbsp batter into baking tray and bake until done and press with a cake presser. Repeat until all batter is used up
– bake entire cake at 100 degrees C for 10 mins or until the edges of the cake are dry
– remove from oven and leave to cool before slicing and serving
Personal notes:
– i line the base of my pan with 2 layers of parchment paper
– i used 72g of batter per layer and got an 18-layer cake. Each layer was baked for 6 mins ~ at the 5th min, i rotated my pan 180 degrees to achieve an even brown colour on the top of each layer
– i pricked each layer after baking. Cake presser was brushed lightly with melted butter before pressing the cake. I do not brush additional butter onto the cake as everytime i do this, my cake turns out very greasy
– i reduced sugar to 220g and still found it slightly "too sweet". i may reduce to 200g in the future
– i used 1 tsp of pandan flavouring and 2 drops of green food colouring
– after baking, i loosen the cake and inverted it directly on top of a cooling rack
Pollution index: lovely weather in tokyo…..