nooooooooo.. these are not mooncakes.. just that (believe it or not).. i don't have jelly moulds at home… so i reused and recycled my mooncake moulds ₍₍ ◟(∗ˊ꒵ˋ∗)◞ ₎₎) for the purpose of these buns
i still have half a bag of ding mien fen (澄粉) leftover from making the snowskin mooncakes..
sometimes i really think bakers can be good snooker players… why.. because just like how snooker player have to strategize their game through the placement of balls,
bakers need to think what they can do next with the leftover ingredients…
you know, like fillings, egg white, egg yolk, 125g of cream cheese etc etc… 

i made a small batch of crystal custard bun with the leftover ding mien fen and custard powder…
Recipe adapted and translated from 心食谱
Ingredients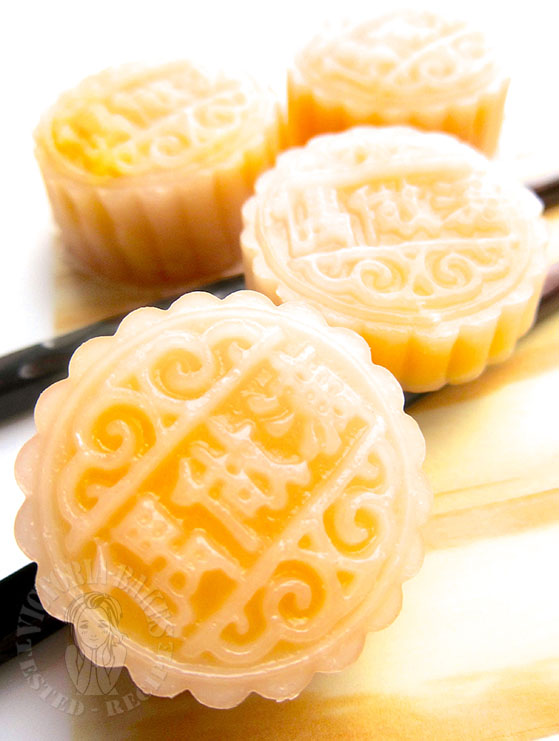 Custard filling
1 egg
15g ding mien fen
10g custard powder
45g milk
40g sugar
20g unsalted butter (softened)
Crystal bun dough
67g ding mien fen
17g corn starch
5g salad oil
70-80g hot water
食材
奶黄馅原料
鸡蛋一颗
澄粉15克
卡仕达粉10克
牛奶45克
白糖40克
黄油20克
水晶皮原料
澄粉67克
生粉17克
色拉油5克
热水70—80克
Directions/方法
– prepare crystal bun dough by adding 70g of hot water into 67g of ding mien fen and 17g corn starch. mix it well and form a dough
先准备水晶皮:把澄粉67克,生粉17克,加入热水70克搅拌成团
– add in 5g salad oil and knead till you get a soft dough. wrap with cling wrap and set aside
然后再加入色拉油5元揉圆,盖保鲜膜备用
– prepare custard filling~ cream softened butter and add in 40g sugar in 3 additions. cream till pale and fluffy
准备奶黄馅: 黄油室温软化,40克白糖分三次加入,打发
– add in egg in 3 additions and mix well
分三次加入鸡蛋,搅拌均匀
– add in milk, followed by sifted ding mien fen and custard powder
再倒入牛奶,放入澄粉,卡仕达粉搅拌均匀
– steam custard in pressure cooker for 5 mins and then stir. set aside
上高压锅蒸5分钟(不用盖限压阀)。蒸好后搅拌均匀
– divide dough and filling into 8 portions and wrap filling into dough and place into moulds. ensure that your moulds are lightly floured. unmould buns
面团和馅各自分成8份,面团擀开包入馅,放入模具中,扣出(外面撒一些生粉放粘)
– after water in pressure cooker has boiled, place buns into pressure cooker and turn heat to medium. steam for 5 mins or till buns are done
高压锅水开后,放入笼上蒸,上汽后转中水5分钟即可
Personal notes/温馨小贴士: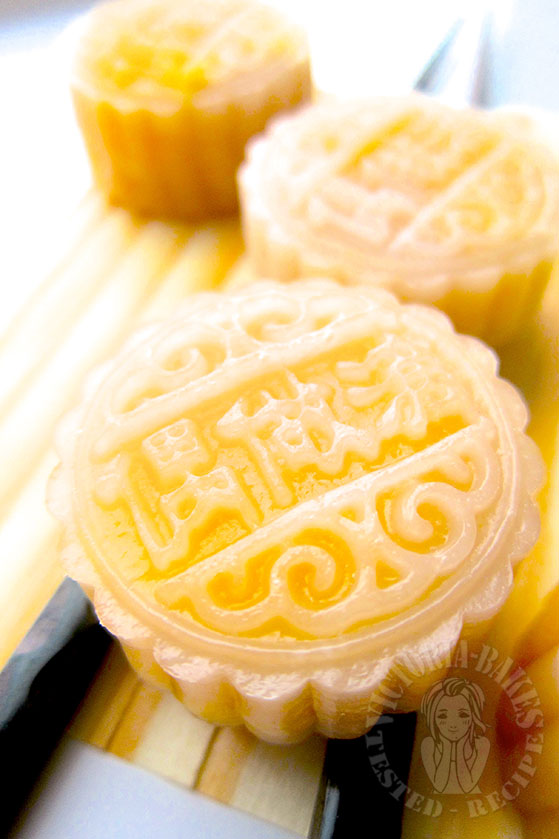 – i will reduce the sugar for custard filling to 30g in the future (i.e. 2 tbsp..)
觉得馅料偏甜 ~ 下回将白糖减至30克 (既是2大匙)
– as i do not have pressure cooker, i cooked my custard over a pot of simmering water. Directions can be found here
我家木有高压锅,所以用了隔水方式煮奶黄馅。方法可参考这里
– my mooncake mould is a 50g mould, so i my dough to filling proportion is 20g: 30g
用的月饼模是50克,饼皮对馅料的比列为20克:30克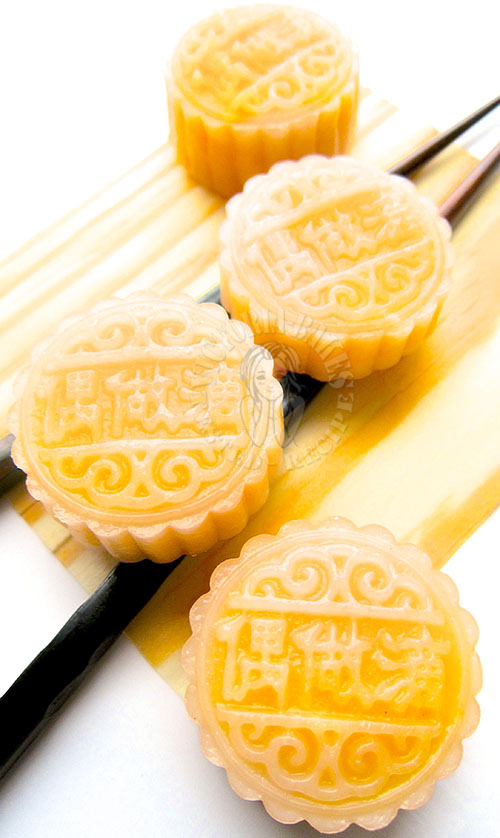 this is a very nice twist from the normal steamed custard buns… plus they are very pretty… and the texture is very very Q~~~ (*゚ε´*)
……and dim sum is served…….
♥☆♥*:.。.ヽ(*▽*)ノ.。.:*♥☆♥
Pollution index: 16 (excellent)