last night, i couldn't get the words "wise men say… only fools rush in" off my head… it was growing louder and louder… so that explains why the elvis presley (caricature) swiss roll? when we think of elvis, his immediate favourite food that comes out to mind are the elvis presley whipping cream pound cake, and the peanut butter and banana sandwich..  and so, i made a banana swiss roll, with peanut butter cream filling (ღ˘⌣˘ღ) ♫・*:.。. .。.:*・
昨晚脑子里不停哼着猫王的经曲。。。
说到猫王,顾名思义想起他最爱吃的猫王磅蛋糕和香蕉花生三明治。。
既然如此。。今天就来咳香蕉花生蛋糕卷呗
♪(*^^)o∀*∀o(^^*)♪
Banana Swiss Roll recipe adapted from Nasi Lemak Lover
Ingredients (make one 11″ x 14″ (28cm x 36cm) Swiss roll)
4 egg yolks
20g caster sugar
30g corn oil
1/4tsp salt
1/2tsp vanilla extract
70g cake flour
100g mashed banana
4 egg whites
60g caster sugar
1tbsp cocoa powder
香蕉蛋糕卷食材 (可做一个 11 x 14 寸 (28 x 36 厘米)蛋糕卷)
蛋黄4颗
细砂糖20克
粟油 30克
盐 1/4 小匙
香草精 1/2 小匙
蛋糕粉 70克
香蕉泥 100克
蛋白 4颗
细砂糖 60克
可可粉 1大匙
Peanut Butter Whipped Cream Recipe from Jill E. Duffy 
Ingredients (Makes enough to frost the layers, sides, and tops of a three-layer, eight-inch round cake)
1/2 cup heavy cream
1 tablespoon sugar, granulated or superfine
1 teaspoon vanilla extract
1 cup smooth peanut butter
1/2 to 1 cup powdered sugar (confectioners' sugar)
3 to 8 tablespoons hot water
花生奶油馅食材
重奶油 1/2杯
砂糖或细砂糖 1大匙
香草精 1小匙
无颗粒花生酱 1杯
糖霜 1/2 至1杯
热水 3 至 8大匙
Directions/方法
– Whisk egg yolks and sugar till light and creamy
准备蛋糕体 ~ 蛋黄和糖打至变浅色并鬅松状态
– Add salt, vanilla, mashed banana and corn oil, stir well. Sift in cake flour, fold well
加入盐,香草精,香蕉泥和粟油搅拌均匀。筛入蛋糕粉,拌匀
– In another clean bowl, beat egg whites on high speed until foamy, gradually add in sugar and beat till glossy and soft peaks form
另一个容器中已高速把蛋白打至发泡。加入糖,继续打至硬性并有光泽
– Take one-third of egg whites mixture to mix with the egg yolk mixture using a hand whisk. Then fold in the remaining egg white using a spatula until well combined
用打蛋器将三分之一蛋白霜拌入蛋黄湖,然后转换刮刀将剩余蛋白霜拌入至均匀
– Take one-third of batter, add in sifted cocoa powder, combine well
取三分之一面糊,加入过筛的可可粉。拌匀至无颗粒
– Pour the batter and cocoa batter into baking tray lined with baking paper. Spread evenly with a scraper and swirl the marble effect. Gently knock the tray on tabletop to remove air bubbles trapped in the batter
将原面糊和可可面糊倒入铺上烘焙纸的烤盘,用刮刀刮平,并画出大理石图案。将烤盘在桌面上轻拍数下以去除气泡
– Bake in preheated oven at 180C for around 13mins
放入预热至180摄氏度烤箱烤13分钟
– When cake is done, remove from pan and place on a wire rack to cool
蛋糕从烤箱取出后,放在网上完全冷却
– Meantime, prepare peanut butter whipped cream. Either by hand with a balloon whisk or in a mixing bowl with the balloon whisk attachment, or using electric beaters, beat the cream and granulated sugar on high until the cream begins to hold shape. Do not over beat or you'll make butter. Err on the side of caution and beat a little less than you think you need because you can always whip it once or twice more if necessary. Fold in the vanilla extract and set the whipped cream aside
蛋糕体冷却当儿,准备花生奶油馅 ~ 用打蛋器将重奶油和砂糖打至奶油变硬性 (并非干性)。 千万不可过于打发。轻轻拌入香草精,待用
– In another bowl, beat together the peanut butter and a half cup of powdered sugar. The mixture will be crumbly. Add a few tablespoons of very hot water, a little at a time, until the peanut butter returns to a smoother texture. It will still be very thick and not spreadable. Add a few more tablespoons of hot water if necessary and give it a taste. If you like very sweet frosting, add more powdered sugar and more hot water until you have the sweetness right. The consistency should still be quite thick
另一个容器中,将花生酱和半杯糖霜打发。花生酱此时会有些颗粒。加入适量的热水,每回只加入一点,直到花生酱变润滑。花生酱应该有点粘性,不适于涂抹。如需要可继续加入热水。如果喜爱偏甜的糖霜可在加入多一点糖霜和热水
– Turn the mixer to low-medium and add a few scoops of the whipped cream to the peanut butter mixture and blend them together. Add more whipped cream and continue to blend until the frosting lightens in color and becomes softer and more spreadable. You don't need to add all the whipped cream, so taste as you go to get the frosting where you like it. If the frosting has too much whipped cream, it won't hold up well between the cake layers
搅拌器转换至中低速,在花生酱中加入几勺的打发奶油,拌匀。继续加入适当分量的奶油至花生酱的颜色偏浅色,并变成容易涂抹状态。你不需要把全部的奶油用 ~ 如果花生酱加入太多奶油就会变得太软,那就无法撑得起蛋糕卷了

– assemble swiss roll but first trimming the sides. carefully spread filling onto swiss roll, and with the help of parchment paper, carefully roll up the swiss roll
蛋糕体修边后,抹上花生奶油馅。小心翼翼将蛋糕卷好
– chill for a few hours before serving
冷藏几个小时后就可使用
Personal Notes:
– my eggs are pretty small (differing in sizes in fact as they are eggs from kampung chicken… or so they say… (*⌒▽⌒*)θ~♪); so i baked my cake in a 25 x 25cm square pan. as i was painting my swiss roll this time, i omitted the cocoa batter and marbling effect
我的鸡蛋比较小,所以这次的蛋糕体是用了 25×25 厘米烤盘做的。因这次是做了彩绘蛋糕卷,所以免了可可湖那一部分
– i baked my cake @170 degrees C for 20 mins (needed the base to be a little drier so the painted picture does not stick to the parchment paper)
蛋糕体是在170摄氏度烤箱烤了20分钟 (因为是彩绘蛋糕卷,我需要蛋糕体烧得干一些 ~ 这样可避免图案粘在烘焙纸上)
– drawing was done by mixing 1/2 tsp dark cocoa powder, with 1/4 tsp of egg yolk mixture and 2 tbsp of egg white meringue. pour batter into piping cone and start painting
彩绘湖制作方式: 蛋黄湖制作完毕后,取出1/4小匙蛋黄湖,筛入半小匙黑可可粉再加入2大匙打发蛋白霜,拌匀即可开始彩绘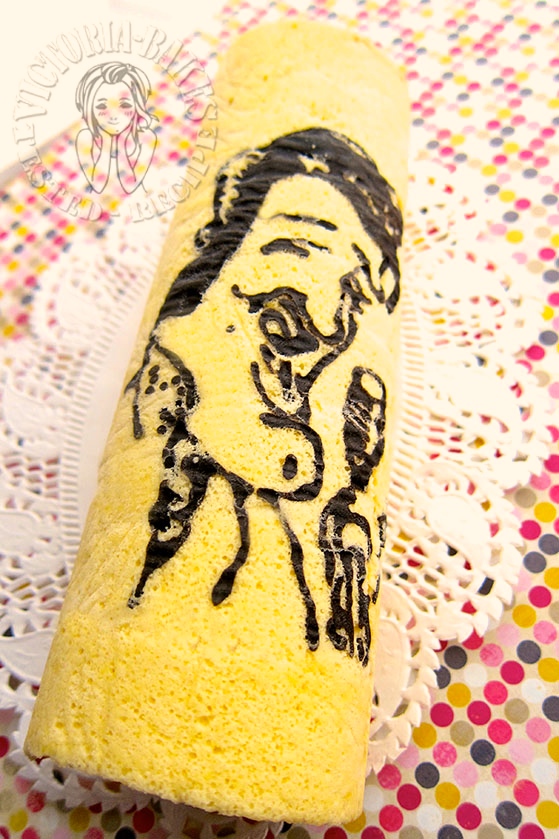 the maid said i should try michael jackson next time … hmmmm… ♬♪♫ ヾ(*・。・)ノ ♬♪♫
家里阿姨说下次可试画 michael jackson….
Pollution index:62 (good)