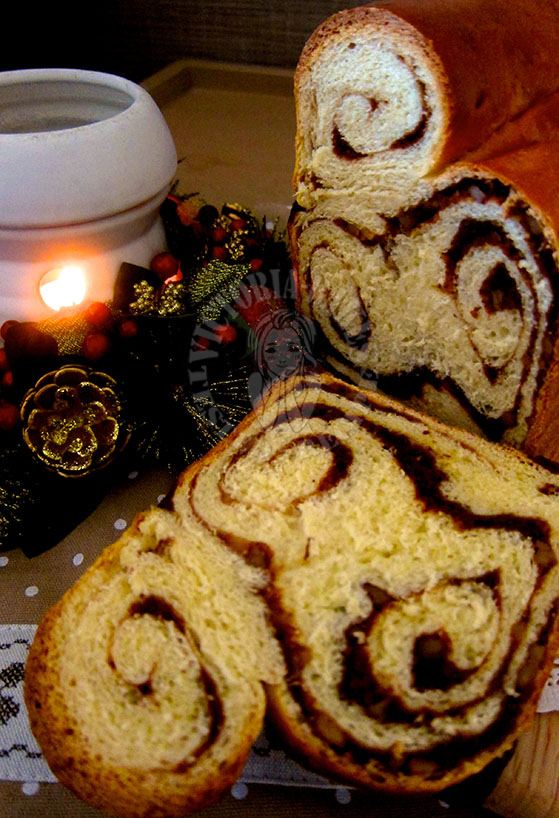 my favourite season is just round the corner… the christmas tree, mistletoe, and what-not are now all up in the house…. and the senses to compliment the sight, is smell and taste…..
i have made potica bread a few times in the past… the husband loves this a lot because of the sweet taste and nutty texture… o口(・∀・ )
Recipe adapted from A Culinary Journey with Chef Dennis
Ingredients

Bread
½ cup granulated sugar
1 teaspoon salt
¼ cup butter
1 cup hot milk
2 packages active dry yeast
¼ cup warm water (105-115F)
2 eggs
4.5 cups unsifted all-purpose flour
Filling
3 eggs
4 cups (1lb) walnuts, finely chopped
1 cup light brown sugar, packed
⅓ cup butter, melted
1 ½ teaspoons cinnamon
1 teaspoon vanilla bean paste or extract
Directions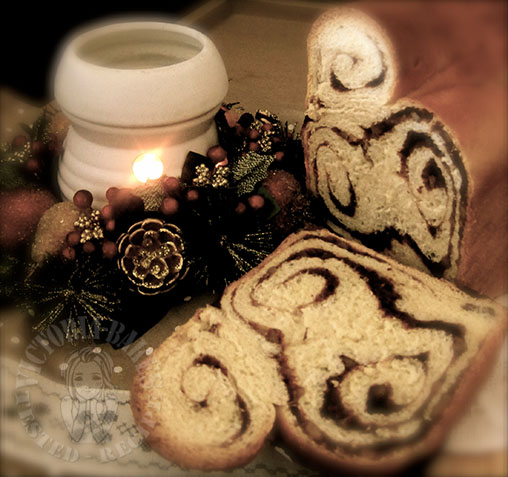 – Stir sugar, salt and ¼ cup butter into hot milk. Cool to lukewarm. (a drop on your wrist won't feel hot)
– Sprinkle yeast over warm water in a large bowl. Stir to dissolve
– Stir in lukewarm milk mixture
– Add 2 eggs and 2.5 cups flour. Beat with a wooden spoon until smooth
– Gradually beat in remaining 2 cups flour; knead with hand until the dough is stiff enough to leave side of bowl
– Place dough in a lightly greased large bowl. Turn dough over – greased side up – and cover with a towel– Let rise in warm place (85F) free from drafts, until doubled in size – about an hour
– Make Filling – In a medium bowl beat eggs slightly, add nuts, brown sugar, ⅓ cup melted butter, cinnamon and vanilla. Stir and set aside
– When dough has risen, punch down. On a lightly floured surface, turn dough out, cover with bowl and let rest for 10 minutes
– Roll the dough out to a 30×20" rectangle. Spread with filling, to 1 inch from edge
– Starting from wide side – roll up tightly – jellyroll style
– Seal by pinching edges of dough with fingers
– On a large greased cookie sheet or seasoned baking stone, form roll into a large coil
– Let rise in a warm place (85F), cover with towel, for one hour
– Preheat oven to 350F. Brush with 2 Tablespoons melted butter
– Bake 35-40 minutes until golden
– Cool on wire rack. Makes a whopping 4-pound loaf!
Personal notes: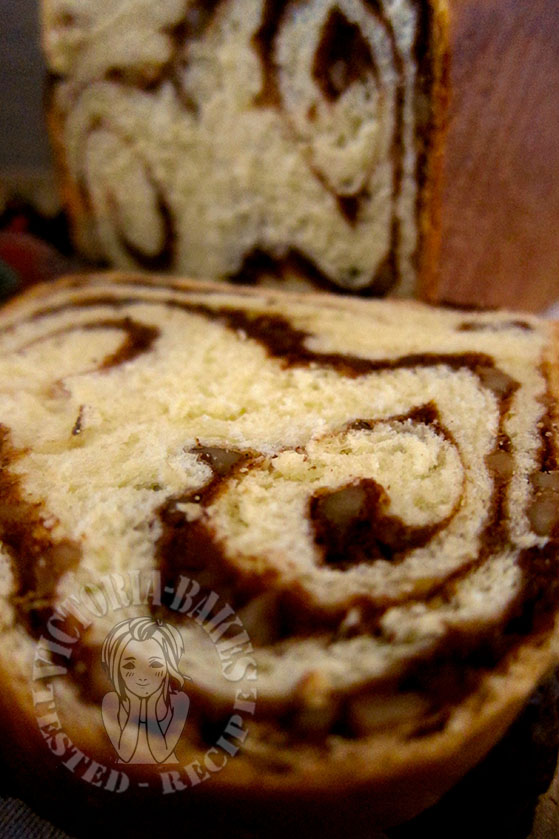 – i halved the recipe and coiled my dough in a 450g bread loaf pan
– i used 1/1/4 cups of chopped walnuts and melted 17g dark chocolate and 20g butter for filling
– dark brown sugar was replaced with coconut palm sugar
– i brushed the bread with milk before baking and with melted butter AFTER baking
– bread was baked in lower rack of oven for 35 mins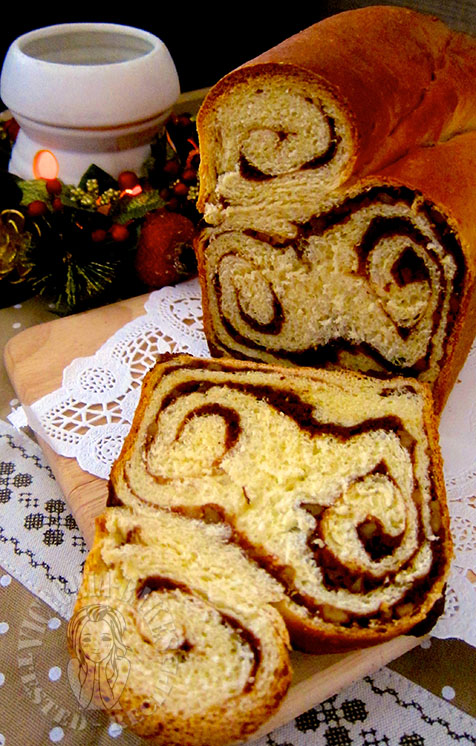 and i love christmas bread… (^-^)_日
Pollution index: 45 (excellent)