ok… i mentioned before i'm a disaster by the stove before ya? i seriously mean it… i burn everything i cook… yes, including pots and pans… i have no idea why i'm such a failure by the fire… hmm.. i wonder if it's because my fengshui element is water and i put out the fire (⊙_☉)..
i bookmark a lot of desserts that use the steaming method but i have never done any of this… because (*roll eyes* ~ and yes.. i always tell people behind every successful man is a woman with rolling eyes ԅ(≖‿≖ԅ)) first, i don't have a steamer or a big pot…. because my kitchen and storage space is unfortunately too small for extras… and secondly did i mention i'm a disaster by the stove?
anyways, and so i decided to make this because i now have pandan leaves … SO! i must attack all pandan desserts with vengeance ╭(๑¯д¯๑)╮ 偶来也!!!
Recipe adapted from Thai Food About.com
Ingredients (makes a 9 inch square pan dessert)
1st LAYER
1 cup glutinous rice (Thai "sweet" or "sticky rice") soaked in water for at least 30 minutes or up to 3 hours
1 1/4 cups coconut milk (thick, high quality)
3/4 tsp. pandan paste/essence
2 Tbsp. white or brown sugar (or maple syrup works well too)
pinch of salt
2nd LAYER
5 eggs
1 1/4 cups coconut milk (thick, high quality)
1/2 cup white or brown sugar (or maple syrup)
pinch of salt
2-3 drops pandan paste/essence
2 Tbsp. rice flour
Directions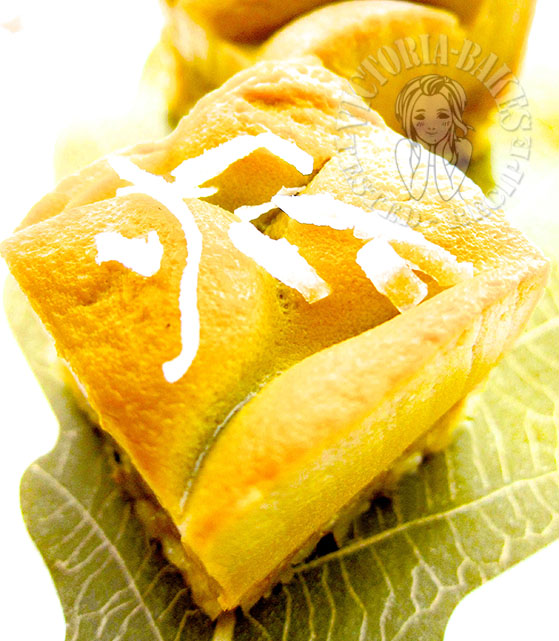 – Use a steamer for this cake if you have one. If not, you can assemble one by placing a bamboo steamer or large colander inside a wok or large pot (bamboo steamers work well and can be purchased very cheaply at Asian grocers). Then place a greased cake pan (9 inch) inside the steamer/colander. Make sure to put at least 1 inch of water in the bottom of your wok
– If your cake pan takes up all the room in the steamer (as mine does), leave off the steamer lid. Instead, use the wok cover (or a very large frying pan cover). Make sure the cover is large enough to allow steam to pass from the bottom of the wok over the top of the cake. (To see what this looks like, click on the step-by-step version of this recipe above.)
– After soaking the rice (see ingredients), drain the rice and stir it together with the other "First Layer" ingredients. Mix well. Note: The pandan paste/essence will turn your batter green, and will also give your cake a nice flavour
– Pour this mixture into the cake tin and even out the surface with a spoon. Then cover and allow to steam at high heat for 20 minutes. Be sure to add more water to the wok as needed
– While first layer is steaming, prepare second layer. Beat the eggs with a fork for 30 seconds
– Add the coconut milk, sugar, salt, and pandan paste. Lastly, sprinkle the flour over. Beat by hand or with an electric mixer until the batter is more or less smooth
– The first layer is done when the rice has absorbed the liquid. When first layer is cooked, gently press down on it with a fork to even out the layer
– Slowly pour the second layer mixture over the first layer. Note: your cake tin can be filled up to the rim, as this cake does not rise very much. Now cover and reduce heat to medium. Continue steaming for another 20-30 min, or until the custard has set (an inserted fork should come out clean)
– An optional step is to the underside of a greased spoon over the surface of the top layer as it is setting (allow it to develop a crust before you do this). If you do this several times, it will even out the layer and give the top a nice sheen
– Allow cake to cool at least 10 minutes before cutting. Serve as is (it's delicious plain) or with a little fresh fruit and a sprinkling of toasted coconut (as pictured)
To Store: Cover and leave the cake on your counter for up to 2 days; refrigerate thereafter. Try to eat this cake while it's fresh, as steamed desserts tend to harden after several days. ENJOY!
Personal notes: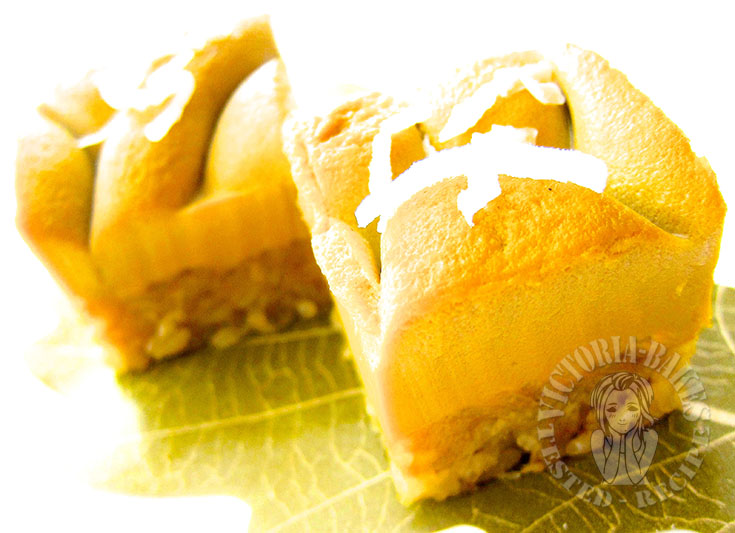 – my dessert turnd out to be a "duck-shxt" green colour… o( ><)o…. that's because i used coconut sugar in the batter and the brown "overpowered" my homemade pandan extract
– i steamed the second layer for 19 mins
– i did not attempt to smoothen the top
is it me, or my dessert really look like tao gua (豆干)?? \(〇O〇)/
see see! i told you i'm a disaster by the stove.. and yes, i burnt my pot…. bbbbbeeecccauuuuse… i forgot to add water when steaming …. so…. no… not everything is a happy ending…
Pollution index: 66 (good)