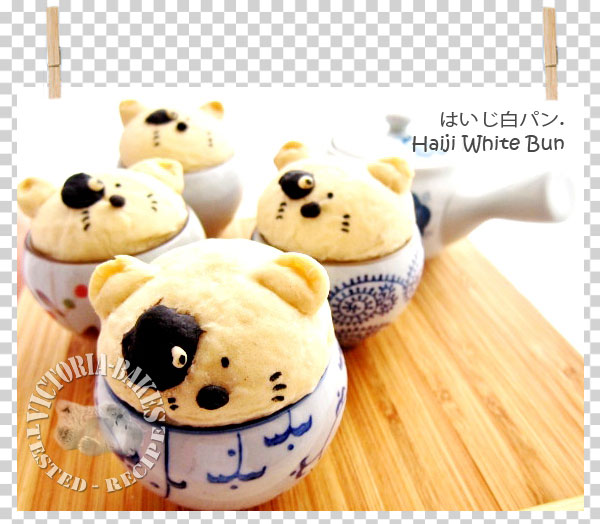 I think i know how i like to take my baking forward ~ i'd always enjoyed baking for the kids and whenever i visit the bakeries in japan with my husband, i can stand forever looking at their displays, and stealing shots for decorative ideas. The good thing is, the hubby will also stand there with me because he is also a wai sek wong himself.
The idea of shaping an 肮脏猫 (dirty cat) had been lingering in my mind for the past 2 days but i'd also been thinking hard on how i could keep the dough as white as possible. The answer was Haiji White Bun (はいじ白パン.) with chocolate filling. I was over the moon as i can now put in use the super dark cocoa powder (colour near to bamboo charcoal powder!) for the patchy eyes.
As i shaped these, i somewhat felt it began to metamophosize… a cat -> a bear -> a dog -> a racoon .. markus said Panda.. when i gave the ears a little fold, it started to look like a teddy bear. I no longer knew what i wanted it to be :S … after i added the whiskers, markus said Cat… oh well, i'll let the kids decide.
Happy snacking 😉 … look… no need to wash additional plates again! wakakakaka
Pollution index: 174 ~ unhealthy