i was really rushing to get this bake through when i figured the last day of Bake Along #46 was today… i'd never been successful in baking cheesecakes of any kind… they either have cracked tops, or are undercooked… anyhow, i have been reading alot since my last cheesecake bake and gathered a few tips in baking the "dream" cake.
Ingredients (makes 2 oval shape cakes or one 8 inch cake)
A:
200g cream cheese (softened)
90g mango puree
5 egg yolks
90g water
50g cake flour
20g corn starch
B:
5 egg white
90g caster sugar
Directions
– line and grease the base and sides of the pan
– heat up softened cream cheese in a bowl over a pot of simmering water and whisk till there are no lumps
– add mango puree and mix well
– mix sifted flour/corn starch with water and add into the above mixture. Mix well
– once you face some "resistance" in the mixture, remove from heat
– incorporate egg yolk one at a time
– beat egg white, adding sugar in a few additions till you achieve shiny stiff peak
– fold in egg white meringue into egg yolk mixture
– pour batter into mould and bake for 60 mins in water bath
Personal notes:
– Little Teochew offered alot of good tips which i adapted most of them when baking today's cheesecake… in her blog, she also shared the highly raved about japanese cheesecake recipe in the blogosphere.. do hop over to take a look. meantime…
– i placed the egg yolk mixture in the fridge for about 15 mins before mixing the egg white (so that the batter is slightly thicker which makes it easier to mix the egg white meringue)
– i sieved the egg yolk mixture before adding the egg white
– i baked my cheesecake in a traditional wooden mould (i.e. mould for castella cakes).. just wanted to bake it evenly and it DID! but it took a long long long time to bake… 195 mins in total…..
– i placed the mould on top of a cooling rack and placed it in a tray of ice water. This actually helps to prevent cracks on the cake…. did it do the magic? yes… look at my cake.. it is really that flawless! (●´∀`)ノ♡ I also added ice to the water tray every 30 mins
– if you have an oven that allows you to control top and bottom temperature separately, you can start with 230 degrees C and 120 degrees C for top/bottom temperature respectively. Once the top of the cake has browned, switch to 100 degrees C and (maintain) 120 degrees C for top/bottom temperature. If your oven does not allow you to control the top and bottom temperature separately, preheat the oven and bake the cake at 230 degrees C for the first 10 mins, and 150 degrees for the rest of the 50-60 mins
– some people suggested leaving the cake in the oven for 30 mins (with oven door ajar) before removing so the cake does not get a "temperature shock". i followed the school of thought to take it out of the oven and remove the mould immediately… my cake did not sink much…
– as this cake is very "fragile", take extra care when removing from your pan. I did not have much problem since it was baked in a castella mould.. but if you have issues removing, knock the pan on the table bench a few times. That should do the trick. Remember to flip your cake back up immediately after removing the base parchment paper, otherwise, you will risk ruining the top layer
– chill cake for a few hours and serve
I hope you will have as much luck as I have (ღ˘⌣˘ღ) have fun! I am submitting this to Bake Along #46 Cotton Soft Cheesecake hosted by Lena of Frozen Wings, Joyce of Kitchen Flavours and Zoe from Bake for Happy Kids.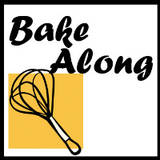 Pollution index: 55 (good)