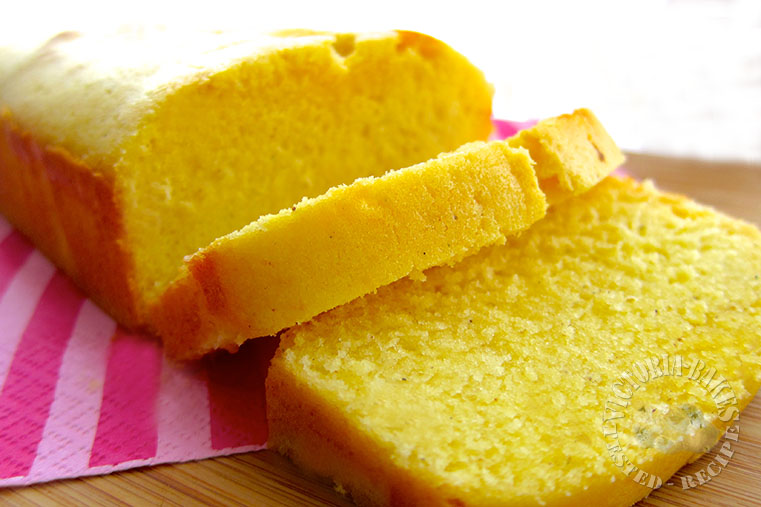 last night, i suddenly had a huge craving for one of those ice-cold sara lee pound cakes… when i was young, my mum used to chill these and serve it with chocolate syrup….
Original recipe from CopyKat Recipes
Ingredients
1/4 pound or 1 stick unsalted butter
3/4 cup sugar
3 eggs
1 cup cake flour
2 tablespoons dry powdered milk
1 tablespoon corn syrup
juice of half a small lemon
1/4 teaspoon salt
1/2 teaspoon vanilla
1/4 teaspoon nutmeg
1/2 teaspoon baking powder
1/4 teaspoon mace (optional)
Directions
– Allow butter to reach room temperature
– Cream sugar and butter together until light and fluffy. Add eggs one at a time and mix well
– Add in sifted flour with baking powder, powdered milk, and corn syrup. Beat each in well
– Add juice of half a lemon, salt, vanilla, nutmeg, and mace. Make sure everything is well blended, and pour into a greased loaf pan
– Bake at 325 degrees for 45 minutes, checking for done-ness by inserting a toothpick and seeing if it comes out clean. You almost want to under bake this
Personal notes:
– i used only 1 tsp of lemon juice and slightly lesser than 1/2 cup of sugar
– i used vanilla paste, and omitted the mace. The cake did not taste any different from a previous loaf i made with mace
– i baked this for only 39 mins and removed the cake from the oven when there were still little bits of crumbs on my cake tester
can't wait to serve this with a scoop of ice cream… o(`ω´ )o …. wicked..
Pollution index: 153 (unhealthy)