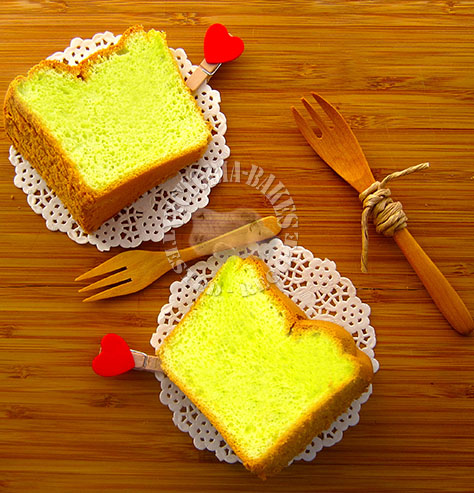 i have been wanting to bake a pandan chiffon cake but still have no luck with finding pandan leaves around here… it's really ashame that in a big city like beijing, we cannot find everything we want in one supermarket…. it's times like that that makes me seriously home sick
.・゜゜・(/。\)・゜゜・.
and so i decided to just make my own substitutes with pandan essence and guess what? i open my cupboard and realise i have none! horror… and i thought i am a firm believer in stocking up on things i do not need… all i had was half a bottle of pandan paste… and so…. here goes… hey, btw, the cake was terrific! i brought it to the church and it was wiped out in no time…
Original recipe from Peng's Kitchen
Ingredients
125gm cake flour
1.5 tsp baking powder
1.5 tbsp pandan juice
125ml thick coconut milk
5 egg yolks
60ml corn oil
pinch of salt
1/2 tsp pandan paste
6 egg whites
1/2 tsp cream of tartar
120gm sugar
Directions

– Beat egg yolks with 50gm sugar till sugar is well dissolves. Whisk in pandan juice, coconut milk, corn oil, pandan paste and salt till evenly mix
– Sift over cake flour & baking powder. Fold till mixture is smooth and free of lumps
– In a clean dry bowl, beat egg whites and cream of tartar at high speed until foamy. Gradually add remaining sugar and beat till stiff
– Add 1/3 beaten egg whites to the yolk batter, fold till combined
– Slowly fold the mixture into the remaining egg whites
– Pour batter into a non-greased 9″ tube pan and bake in preheated oven at 180 deg cel for 40mins or till golden brown
– Remove the cake from oven and invert to cool completely before unmoulding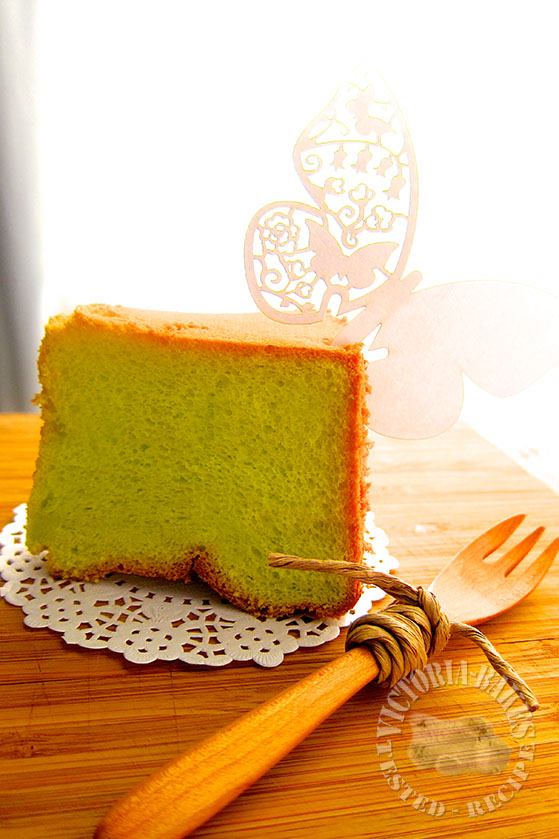 Personal notes:

– how to make pandan juice: blend 10 pandan leaves with 275ml water & strain. You will get one cup of pandan juice from this
– no pandan leaves? mix 2 tsp of panda essence with 250ml of water
– NO PANDAN ESSENCE LIKE ME? mix 1/2 tsp pandan paste with 150ml water… i found this mix to work quite well with the additional 1/2 tsp of pandan paste that is to be added in later… the colour turned out to be a pleasant lime green
– today was the first time i mixed the meringue and egg yolk with hand power… i do like this much better….
happy sunday peeps (๑・ω-)~♥"

Pollution index:  161 (unhealthy)