Recipe adapted from BitterSweetSpicy
Ingredients
250g butter
100g castor sugar
1tsp vanilla paste
50g nestum
100g cornflour
200g plain flour
whole almond (toasted)
chocolate for coating
almond nib for topping
papercups
食材
无盐奶油 250克
绵白糖 100克
香草豆糊 1 小匙
Nestum 营养麦片 50克
粟粉 100克
面粉 200克
巧克力 (涂抹曲奇用途)
杏仁(全颗粒) 数粒,烤香
杏仁碎粒 (收尾用)
纸杯
Directions/方法
– Beat butter, sugar & vanilla paste until well blended
黄油、糖和香草豆糊搅拌均匀
–  Add nestum & beat just until blended
加入麦片再次拌匀
– Add plain & corn flour. Mix well. Cover dough with plastic & leave to rest for 15 minutes
筛入面粉和粟粉,搅拌均匀。面团盖上保鲜膜,静置 15分钟
– Flatten a small piece of dough, place an almond & shape dough into an oval or round shape
面团随意分割成小团,稍微压扁、摆上一颗杏仁。然后将面团搓成椭圆或圆球形
– Bake at 170 deg C for about 20 minutes
送入预热之170摄氏度烤箱烤20分钟即可
– Transfer cookies from baking pan onto a wire rack. Leave to cool completely
曲奇挪至冷却架完全冷却
– In the meantime, melt chocolate using double-boiler
曲奇冷却当儿将巧克力融化
– Dip cookie into chocolate using a tong & place onto a paper cup. Top with almond nib
用夹子夹起曲奇,浸入融化巧克力,然后摆入纸杯。顶部撒上杏仁粒
– After chocolate has hardened, store in an air-tight container
待巧克力凝固后,将曲奇收纳于密封盒保险
Personal notes/温馨小贴士:
– i halved the recipe and made 17 cookies using a 3.5cm cookie scoop
我做了半份食谱,用了3.5厘米曲奇勺,做了17个曲奇
– i melted about 130g of dark chocolate melts to coat the cookies ~ i found the amount just nice for dipping
我融化了130克黑巧克力涂抹曲奇 ~ 份量刚好
– i did not have nestum (not in beijing ya?) and used spelt oats… the taste still worked out well
北京没找着Nestum, 所以用了斯佩耳特小麦麦片。。。味道也很好
– my cookies were baked for 18 minutes
我的曲奇烤了18分钟
– halved toasted almonds and sliced almonds were used for the ears and feet respectively. melted white and dark chocolate have been used for eyes, whiskers and paws. you can fix the ears immediately after the cookie has been coated
也不知道这次做了啥动物。。。反正耳朵和小脚是半颗粒杏仁和杏仁片。其余表情都是用融化白巧和黑巧点上的。。耳朵可以在涂抹上黑巧克力后直接粘上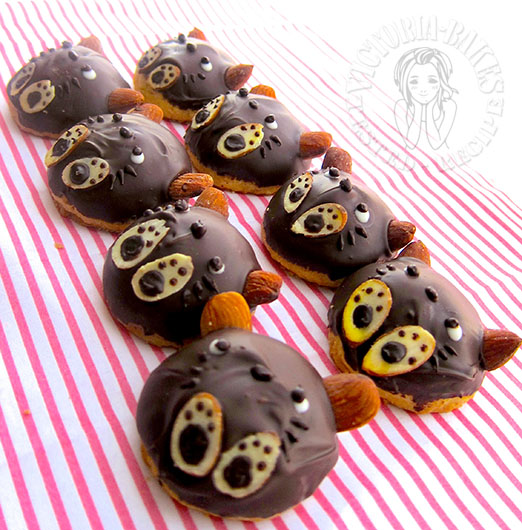 i am submitting this post to Aspiring Bakers #36: Choc-a-Cookie (October 2013) hosted by Genie of Honeybee916food.
love love this cookie ♥☆♥*:.。.ヽ(*▽*)ノ.。.:*♥☆♥ –
Pollution index: 125 (lightly polluted)