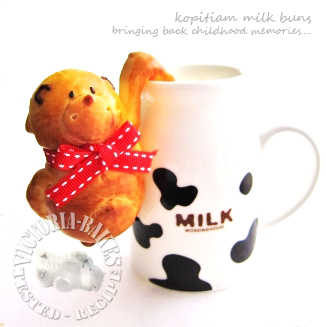 during my flight back, i cannot stop thinking about a hanging monkey… no idea why.
this is a very good recipe.. soft, and accurate recipe from Vinny's blog. I attempted to shape as a monkey but the little ears and hanging legs disappeared into nothing after baking. But i'm surprised it has strong arms to hang onto the jar.. hahaha… so cute
and another thing i wanted to bake was mini
baked doughnuts. i wanted to decorate it like hello kitty.. ya guess what? i got lazy colouring the white chocolate into yellow and red for nose and ribbon.. kakaka… lazy baker. some things never change. Doughnut recipe from Mimi bakery house… not exactly my kind of doughnut (not saying it ain't good).. For now, i still prefer the one from Darla (bakingdom.com)
It's April and my house is still freezing. So many people sick because of the unpredictable weather. Beijing also detected its first case of H7N9 yesterday 1pm at Dongzhimen Hospital. This is really scary… what's happening to the world?
Pollution index: 49 (very good)